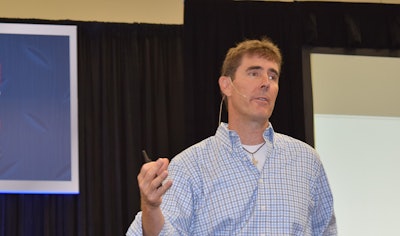 "There's never been a better time in trucking than this," says Todd Amen, president and CEO of owner-operator services firm ATBS, who said owner-operator pay has surged over the past year in response to a strong economy, tight capacity and soaring rates. He also foresees those trends continuing at least through the first half of next year.
In a presentation part informational and part motivational, he and ATBS Vice President Richard Deforest spoke in an hour-long session Friday at the Great American Trucking Show as part of Overdrive's Partners in Business program.
Owner-operators are earning higher pay on fewer miles, a trend he's noticed in ATBS' well of data in the 20 years the company has been in business. Amen predicts average owner-operator income of ATBS clients to hit $65,000 this year — up nearly $5,000 from last year's average of $60,182. "Not too long ago," he said, operators were averaging $50,000 to $55,000 a year.
Detailing the market's tightness, Amen pointed to Truckstop.com's Market Demand Index, which tracks load to truck ratios. Currently, the ratio is at 36 loads for every one truck — a major imbalance that's driven rates higher and higher over the past year. Despite increases in fuel, maintenance costs and truck payments, operators are still bringing home better paychecks.
Flatbedders, in particular, are "making big bucks," said Amen, projecting their income to average more than $76,000 this year. "Flatbed business is unbelievable," he said. That's a continuation of the trend seen in 2016 and 2017, when flatbedders averaged about $10,000 more annually in net income than dry van and reefer haulers.
With spot market rates setting records, Amen said independent owner-operators are in the position to well outearn their carrier-leased counterparts. Spot market rates are averaging around $2.30 a mile, Amen said, far above the roughly $1.40 a mile earned by owner-operators leased to carriers.
However, he cautioned, trucking is a cyclical business, noting operators need to be preparing for down times when they come. Deforest seconded Amen's advice. "It's a great timne to be an owner-operator, but trucking has always been a series of pendulum swings," he said. He detailed a list of ways operators can continue to refine their businesses and prep for tougher times.
"Have clear long-term objectives," he said. "It doesn't cost anything and it doesn't take a lot of time. But studies show people who do this are much more successful in certain areas of life."
He encouraged operators to create — and stick to — a budget, to buy everything with cash and to get their credit scores in order by paying off credit accounts as quickly as possible and by eliminating debt.
He also cautioned against unnecessary spending in their businesses. "Purchase only essential tools and equipment," he said. "Separate what you want from what you need. Look at things that are going to increase your revenue the most or decrease your costs the most."
To stay ahead, truckers should resolve any outstanding tax issues and educate themselves by reading business books or taking online courses.