ATBS Vice President of Sales and Marketing Mike Hosted, also a presenter at Overdrive's earlier-year Partners in Business seminar at the Mid-America Trucking Show, last week delivered the owner-operator business services firm's mid-year benchmarking update. He shared revenue, cost and income averages among a variety of other metrics derived from ATBS client owner-operator financials in hopes of giving owner-operators a window on trends against which to assess their own business's performance.
The upshot of the presentation is that cost pressures outlined in the March session at MATS have delivered a blow to owner-operator net income, yet high earners among ATBS clientele suggests a few paths forward for those who would excel in a market getting tougher by the day.
Revenue's up, but costs are up more
Revenue through this year has been way up on average, even for independents, often without the benefit of built-in fuel surcharges in negotiated rates if they're working with brokers.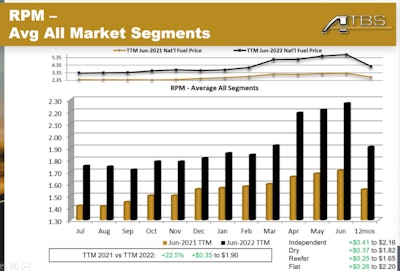 As shown in the chart, though, the bad news is that revenue gains track right along with the rise in the national average diesel price. The gains in revenue have been "completely offset" by the rise in the cost of fuel, Mike Hosted said.
Maintenance costs haven't helped matters, either. Average miles run, considered across all segments, were down 11% year over year comparing the 12 months ending in June 2022 to those that ended June 2021. Maintenance costs, though, fell just 3.5%. That cost on a per-mile basis thus "continues to go up," said Hosted, with the "average ATBS client paying 14 cents a mile in June for maintenance."
The consistent No. 1 cause of owner-operator business failure? "A major mechanical breakdown," he said. With costs up as much as they are, he said, owners are best served not to defer expensive repairs and to "have a really good maintenance reserve." A fixed amount per week may be a good approach when miles are fluctuating with up and down demand.
Mostly down, though, particularly in the spot market where many independents with authority operate. Cost pressures have translated to net income reductions on the average of around $1,000 annually, comparing the same 12 months ending in June for the last two years.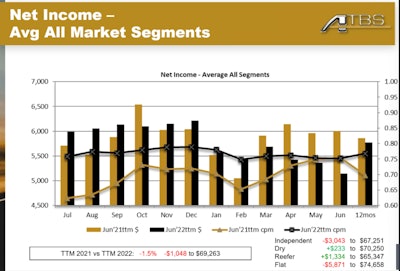 Average miles run by owner-operators have continued to decline as demand and spot market rates have softened, though, leading Hosted to the contention that most in ATBS's mostly-leased clientele haven't fully felt the pain of that falling demand, insulated too from much of the rise in fuel costs by surcharges.
As time goes on, if demand further weakens, Hosted expects a shift to rising average mileage trends, likewise fuel-efficiency, already happening among independents. "I was really expecting to see fuel mileage up this year," said Hosted, "but people haven't really slowed down yet," among the simplest ways to increase mileage. "There was an uptick in fuel mileage among those with their own authority -- they are feeling the pain and the only" group to have changed mileage-maximizing habits by and large.
The pain in the spot market, particularly since May, has been such in that group that ATBS is beginning to see something of a "migration back by those who got their authority" during the good times "to motor carriers" and lease arrangements, Hosted said. "You can still do really well" with spot freight, yet "on average it's getting a lot tougher," something more resembling the pre-pandemic "normal" than the immediate prior years.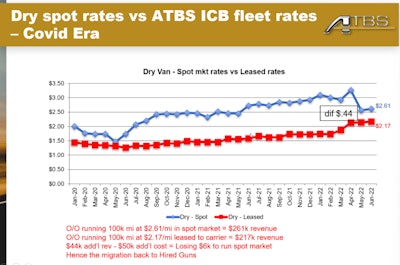 Habits of high earners? More miles, greater cost efficiency
The owner-operators among ATBS clientele with the highest net income have both run more miles and delivered on cost control in the recent period, Hosted said.
He offered a comparison of the top-earning 10% to the average earner, illustrating a big difference in miles at more than 120,000 annual miles for the top earners and about 90,000 for the overall average. Yet the average per-mile net for each group was almost a full dollar per mile, or the difference between the nearly $70K average owner-op income and a $200K annual net.
Coming out the back side of this challenging year, Hosted expects to see average miles creep back up for the first time in a good while now, especially if demand continues to fall and put downward pressure on spot and contract freight rates.
"The best business owners can really do well in this market," he said, and many of them today "are running more miles" at greater levels of efficiency. "The difference between 6 and 7 miles per gallon" at today's prices amounts to "about $10,000 in cost a year. Every dollar you save you get to keep." Adjust habits to slow down and get better fuel mileage, "if you've got time on a load," he added. If you reach and consistently achieve 7 mpg, of course, that "$10,000 goes right into your pocket."
Better fuel efficiency might also translate to better maintenance-cost performance. While the top-earning 10% paid more for maintenance over the course of the last year than the average owner-operator, on a cost-per-mile basis they're beating the average owner by around 3 cents/mile.
[Related: How to do more than just live with the horror of high fuel]
---
The Partners in Business program is produced by Overdrive and the consultants at ATBS, the nation's largest owner-operator business services firm. Download the comprehensive "Partners in Business" owner-operator business manual, covering topics from start-up to expansion with multiple trucks. There, find much more information about the ins and outs of safety, maintenance and business processes, among a myriad other topics.