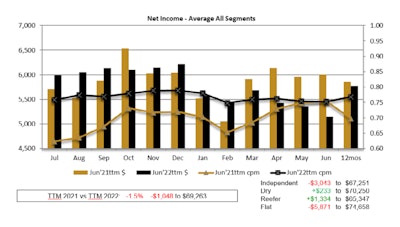 ATBS
In a bit of a preview of an online seminar upcoming Thursday, September 15, at 6 p.m. Eastern time, owner-operator business services firm ATBS revealed some of the results of its semi-annual owner-operator benchmarking analysis. As shown on the chart at the top, comparing the prior two 12-month periods ending with the month of June this year and in 2021, respectively, on the average, owner-operator income took about a $1,000 step backward in the most recent 12-month period.
For context, that step back came with more than 10,000 fewer miles run than was the case between July 1, 2020, and June 30, 2021.
As noted in a preview document you can download at this link, "net Income is only down $1,000," as ATBS put it, yet comparing just the second quarter of this year with the same three months of 2021, it's easy to see the accelerating losses that have come with record-high diesel prices, continued high equipment costs and a cooling spot market. "Net income was down $2,000" in that period this year alone, ATBS noted.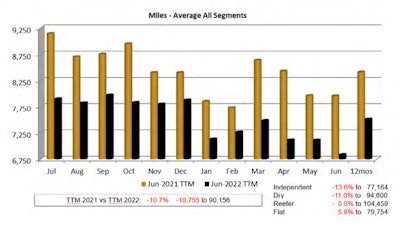 ATBS President Todd Amen noted he and others there expected the miles trend "to reverse in the back half of the year," more than likely. "We believe they're down because owner-operators haven't felt the full pain of lower earnings yet." Adjustments are like as not being made as we speak among those with the freight to justify the miles.
Anecdotally, too, Amen and the team have heard many examples of the high cost of fuel this year sending owners to the sidelines "to sit and not run," he said. Labor issues in some instances at shippers and receivers may have played a part, too, "causing longer delays and less efficient transport, hindering miles."
What does it all mean for the rest of the year?
ATBS's "Independent Contractor Benchmarks and Trends Webinar" will aim to answer a variety of other questions raised by owner-operator financial and freight trend data, with an eye toward helping owners prepare for the coming months:
How did drastically higher fuel costs impact onwers' bottom line?
How did the diminishing spot market change the dynamic of the owner-operator population?
How did inflationary costs for trucks, fuel, maintenance, and insurance impact owner-operators?
What are the best owners doing to change for the better?
Readers, whether ATBS client owner-operators or not, can register for the September 15 session via this link.
---
ATBS is Overdrive's partner in producing the "Partners in Business" manual for new and established owner-operators, a comprehensive guide to running a small trucking business. Click here to download the updated 2022 edition of the Partners in Business manual free of charge.