Some owner-operators who purchase used equipment swear by either buying a truck still under warranty or purchasing an extended warranty to cover the truck as it ages. Others, however, have had less than stellar experiences in getting warranty companies to cover repairs and would rather just take the financial risk associated with possible needed repairs.
Peter Ferrara, a one-truck owner-operator based in Norfolk, Massachusetts, got into trucking in 2019 and jumped in with both feet, starting his own business, P.D. Ferrara Trucking. He bought a lightly-used 2018 Mack Granite dump that had 55,000 miles on it at the time and does work locally for excavation businesses in the greater Boston area, hauling mostly fill sand and gravel.
The truck still had the OEM warranty from Mack when Ferrara was looking to buy -- it ended up being the deciding factor in buying that particular truck, he said.
Ferrara, who owned a landscaping business for more than 40 years before jumping into trucking, said he'd heard from others in the business about the problems owners had with emissions systems. "Everyone was saying the same thing," he said. "Emissions stuff that we can't fix ourselves that can really add up."
When it came down to it, the Mack he bought had a warranty, while a similarly spec'd Peterbilt with similar mileage he was looking at didn't. What he got with the Mack was what was left over on a 5-year/100,000 mile powertrain warranty that also included the emissions system.
"I couldn't say more about it," he said. "I had a couple small repairs" that were made with "no questions asked," and he got the truck back within 24 hours.
The perception of used-equipment extended warranties among owner-operators varies considerably, depending on operators' personal experience and/or word of mouth from others who have dealt with extended warranty claims, and whether that experience was positive or negative.
Given those perceptions, the reality back before the COVID-19 pandemic and attendant equipment and parts shortages -- and skyrocketing equipment, parts and labor costs -- was that the take rate for extended warranties was in the neighborhood of 20%-25%, according to A.J. Johnson, chief operating officer of Truck Master Warranty.
That number was even lower among Overdrive readers, according to research conducted last fall. Overdrive's Truck Purchase and Lease Survey, the results of which released early this year, showed not even 1 in 10 owner-operators were able to purchase a used truck still under warranty with their most recent purchase. Furthermore, among used buyers, just 18% elected to add warranty coverage with the purchase.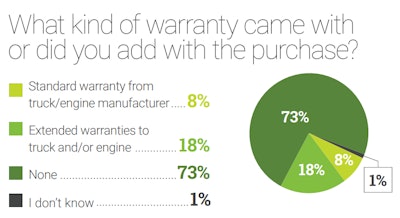 Lindsey Grammel, vice president of global brand development for warranty provider TruNorth Global, has been working with used truck warranties for more than a decade and is aware of the reputation they have had among owner-operators.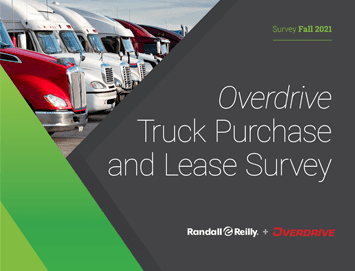 How do Overdrive readers acquire trucks for their business?
If you're an owner-operator trying to navigate the fast-changing truck purchase/leasing environment, you need to check out how your peers responded to this survey from Overdrive.
Download the survey results to access insights on:
→ Percentages of respondents who bought new vs. used trucks
→ Model years for trucks and engine/emissions spec
→ Truck financing and maintenance issues
→ Fuel-mileage performance
→ Your peers' interest in emerging electric powertrains
"Warranties themselves, even since I entered the market, usually get a bad rap" she said. Some fly-by-night warranty providers have skipped town without honoring their obligations, and "people get a bad taste in their mouth," she added.
Johnson said today, with lower inventories and higher prices on equipment and parts, he'd estimate the take-rate for extended warranties is closer to 75% on used-truck purchases, or more than three times his estimated pre-COVID rate.
"Back when truck prices were lower and 'normal,' the truck payment was lower, the down payment was lower, so the driver had more cash in their pocket," Johnson said. "Buying a warranty was more of a choice for them. A lot [of owner-operators] decided to just run the risk -- they've got money in the bank and don't need a warranty. Now, fast-forward to today with low inventory and high prices -- a truck that used to be $45,000 … is now selling for $85,000" in some instances.
Yesterday's owner-operator, who would have still had plenty in the bank after the purchase, now has a higher down payment and a higher monthly payment, "so he's basically out of cash at this point," Johnson said. "He's given the dealer everything he's got, and he can't afford to fund a breakdown."
That, he said, is the reason extended warranties have become more popular over the last couple of years.
"A lot of drivers are seeing the value [of extended warranties] and are not wanting to take the risk," he said. "They simply don't have the money to pay for large repairs."

About a year ago, owner-operator Ferrara said, he had a major problem with his Mack dump -- he had to get it to the dealer within four hours or it would derate.
"I got it there, and it needed a major repair," he said. "The part itself was over $5,000. I had the truck back in two days, and they were apologetic they couldn't get it the next day."
Ferrara noted that previous warranty experience outside of trucking was that companies "fight you on" repairs, "but Mack has not fought once."
Ferrara's advice to other owner-operators – "I would say definitely pursue" a warranty. In the straight dump market, even used, you could be "paying $200,000 for the truck, and you could have very expensive repairs right after that. It could kill you unless you have the warranty for the coverage."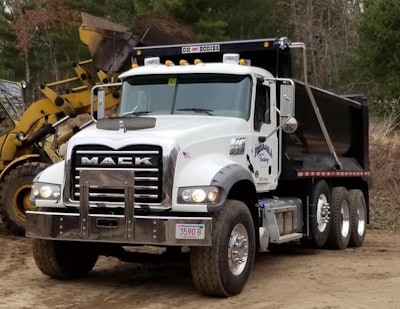 It's not all sunshine and rainbows, though. Waxhaw, North Carolina-based owner-operator Patrick Shaw previously owned a 2012 Freightliner Cascadia that he added an extended warranty to through an aftermarket warranty company. "I've learned some things here and there along the way" since starting his P&S Transporting company in 2018, such as "what to look for and not to look for as far as used trucks, and the finicky fine print in used-truck warranties."
He said there was a factory issue on the truck with the windshield that did not manifest as a problem until June 2020, when a perpetual leak shorted out a computer on the rig that basically bricked the truck, Shaw said.
"The warranty people wouldn't cover it because it wasn't inside the engine, transmission or rear end," he added.
He had also had DEF issues with the rig approximately every 17,000 miles, he said. "I was not able to use the warranty for DEF problems, either, because it wasn't a 'wearable part.'"
"The only thing I can say is do your research on the warranty itself and the truck," Shaw said. "Know how to tailor the warranty for the truck."
If an ECM report shows consistent fault codes with one particular part of the truck, try to get a warranty that covers that part, he added.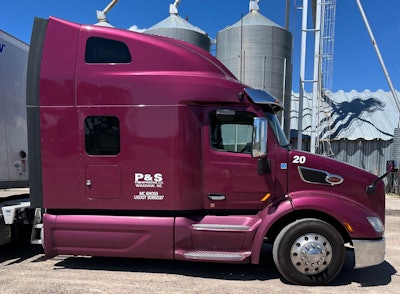 Shaw has had two trucks since the computer went out in his 2012 Freightliner in 2020 -- a 1998 Peterbilt 379 that had a one-year warranty on a recently rebuilt powertrain, and a 2020 Peterbilt 579 (above) that he bought earlier this summer.
"This particular one, I did not get an extended warranty," he said, though the truck does still have about 10,000 miles left on the factory powertrain warranty and two more years on its electrical warranty, which covers the ECM, main harnesses, and more. "The last truck I did kind of soured the whole thing. If I was going to pay out of pocket regardless," he saw no point to purchasing a warranty.
Similarly, Robert Wafer, an owner-operator out of Plainview, Texas, bought a 1995 Freightliner Classic XL as his first truck when he started his business and bought an extended warranty with it. "Every time I'd go get something done with the warranty, it just never panned out," he said. "They always found ways to not cover it. After that, I said I wouldn't buy another one."
Read next: What's available in the used-truck-warranty market
Associated podcast: Used-truck warranty evolution, coverage improvements, how to evaluate