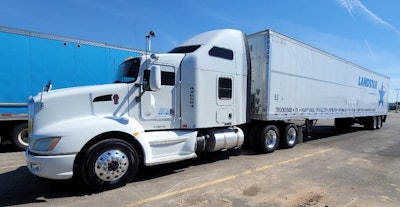 Previously in this three-part look at used-equipment warranties: Used-truck warranties more valuable than ever with sky-high equipment prices and maintenance costs
Beyond the OEM warranties that sometimes can be found on newer used trucks, aftermarket extended warranties are available from a handful of providers, including Truck Master Warranty and TruNorth Global. National Truck Protection/Premium 2000+ also offers Class 8 aftermarket warranties, and powertrain warranties are available from engine OEMs like Paccar, Volvo, Mack, Cummins (see below), Cat and Detroit.
Owner-operator Eduardo Sustaita, headquartered in El Paso, Texas, bought his first truck in 2014, starting as a leased Peterbilt 387 he acquired after a 2.5-year lease term in CFI's program. "It was a lemon," frankly, he said, that "brought me almost to bankruptcy," though he got through it with mounting debt. Finally, he had an in-frame done on the engine that didn't go well, and so he sold it six months after completing the lease and taking ownership.
With "everything I learned from having that Peterbilt," Sustaita said, "I checked all the little details" before he bought his current truck, a 2013 Kenworth T660 that's been a better experience. He elected to purchase an extended powertrain warranty, a Premium 2000+ product in this case, for around $5,800. He got an in-frame on the engine at a Cummins dealership, which the Premium 2000+ warranty covered to the tune of $19,555 -- saving him about $14,000 -- and got coverage attendant to that, to "cover the stuff that Premium 2000+ [warranty] wasn't going to cover anymore," because it had a $20,000 value limit. "... That paid off in two months when a turbo went out. That warranty covered the turbo and DPF."
Outside of the engine OEMs, Lindsey Grammel, with aftermarket used-truck warranty provider TruNorth Global, said the used-truck extended warranty market has consolidated down to just three or four providers in recent years, and "every warranty company is looking to put together the best program for customers."
There's good news in that reality. Recent used truck market dynamics have triggered aftermarket warranty providers to look at covering older vehicles at higher mileages than was previously traditional.
[Related: Sellers' market: Owner-operators adapt to skyrocketing used-truck prices with tight volume]
At used warranty provider Truck Master, current offerings will cover trucks up to 10 model years old and up to 1.1 million miles, said Truck Master COO A.J. Johnson. The current state of the used truck market, with larger fleets holding onto trucks longer and owner-operators having to do the same due to limited used inventories, means Truck Master will soon be increasing both the mileage and age limits for its warranties.
"We're definitely seeing the older inventory hitting the street, and we're getting a lot of requests for a plan that goes up a little higher than it does now," Johnson said. "It's just a reaction to the current market -- it's just a need that we see."
Grammel said TruNorth Global is looking to do the same with their warranties. They currently will cover trucks up to 20 model years back, "and we're working on a program to go back 30 model years," she said. "The state of the used truck market is so crazy, but there's a lot of people trying to get older trucks. And if they have older trucks, they're maintaining them and trying to keep them longer." She, too, has seen "requests for covering older and higher-mileage vehicles."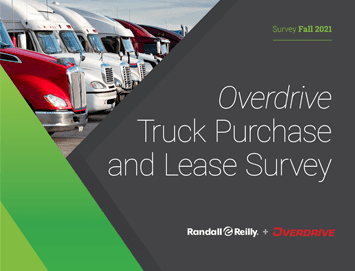 How do Overdrive readers acquire trucks for their business?
If you're an owner-operator trying to navigate the fast-changing truck purchase/leasing environment, you need to check out how your peers responded to this survey from Overdrive.
Download the survey results to access insights on:
→ Percentages of respondents who bought new vs. used trucks
→ Model years for trucks and engine/emissions spec
→ Truck financing and maintenance issues
→ Fuel-mileage performance
→ Your peers' interest in emerging electric powertrains
Grammel said the company currently offers warranties up to 1.25 million miles. If they expand the age limit from 20 model years to 30 model years, the mileage limit will increase to 2 million miles.
Depending on the warranty company, owner-operators can purchase an extended warranty either when they purchase the used equipment, or in some cases, they can buy a warranty for equipment they already own.
Truck Master warranties are only available through authorized dealers, but owner-operators can still contact the company directly for more information and to be pointed in the right direction. TruNorth Global warranties are available both at authorized dealers and as a standalone purchase.
Terms of the warranties also vary from company to company, but are generally fairly standard. Truck Master offers warranties ranging from one to four years, with the most popular option being 2-year/250,000-mile coverage, followed by an 3-year/400,000-mile option.
[Related: Emissions systems, while improved, still causing issues for some owners]
TruNorth Global, similarly, offers four options -- 1-year/125,000 miles, 2-year/250,000 miles and 3- and 4-year options up to 1.25 million miles on the odometer or ECM, Grammel said.
Levels of coverage also vary by company. TruNorth's primary offering is its all-inclusive program, which covers engine, transmission, differential, turbo, ECM, fuel pumps, water pumps and emissions/aftertreatment systems. The company also has a la carte offerings with which truck owners can pick and choose the coverages they want, as well as what the company calls an OEM 2 warranty, which covers the parts normally covered by an OEM warranty.
Grammel added that TruNorth works to be flexible with its customers, and in the event that there's a component on a truck that's not covered under one of the company's existing plans, they will work to create a custom program for that owner.
Truck Master has four different tiers of coverage, ranging from its Bronze plan (covering only internally lubricated parts of the engine) up to its Platinum plan, which Johnson said is their most popular among customers. It covers engine, turbo, fuel system, ECM, exhaust aftertreatment and more. Transmission and rear axle coverage is an optional addition for all of Truck Master's warranties, Johnson noted.
Warranties from Truck Master range in price from around $3,500 for the basic 2-year/250,000-mile warranty to up to nearly $12,000 for its flagship 4-year/500,000-mile Platinum with transmission and rears coverage. The company's most popular package, the 2-year/250,000-mile Platinum, averages around $6,700.
To maintain coverage and not void the warranties, owners are required to keep up recommended maintenance intervals and not drive the truck if there is a check engine or fault code light, indicating operation could damage the truck further.
Owner-operator Sustaita knows such limitations well. While his post-in-frame Cummins Encore coverage covered the DPF in addition to his turbo when it failed, it also "covered an oil leak from the front housing," he added. "That Encore warranty I think is one of the best. It covers progressive damages," or items downstream from the original failure that were impacted by it. "After that, I haven't had any major repairs."
He said he paid around $4,500 for the Encore coverage. Compared to some other warranties Sustaita has experience with that can be "really specific" in their terms -- "if you miss something maintenance-wise they might deny the claim," he said -- the Cummins warranty feels "straightforward. If they mess it up, they fix it."
Read next: Digging into changing dynamics for used-truck warranties
Associated podcast: Used-truck warranty evolution, coverage improvements, how to evaluate
---
Find more information related to the ins and outs of used-truck warranties, among a myriad other topics, in the Overdrive/ATBS-coproduced "Partners in Business" manual for new and established owner-operators, a comprehensive guide to running a small trucking business. Click here to download the updated 2022 edition of the Partners in Business manual free of charge.