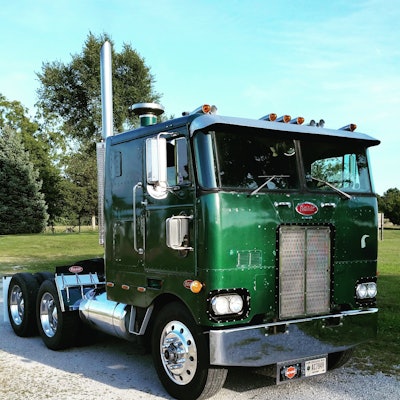 Marcus Moyer bought this 1974 Peterbilt 352 in 2018 in memory of his father. The rig was in service for Mayflower Van Lines until 2016. It sports a Cat 1693T with a 13-speed and air ride suspension. Moyer says the original owner changed a number of things on the truck to make it look more modern, including square headlights from a 1990 Ford F250. Moyer switched most of it back to the original look and added aluminum wheels. The motor has been overhauled and has new rear ends, a new drive line, new king pins and a new radiator – all of which was done before he bought it.
Moyer says the truck was sold from a GM dealer in Indianapolis in 1974, but delivery was out of Peterbilt of San Diego. His purchase of the rig brought it back to its original home. He now uses it as a "weekend cruiser and an ice cream getter," he says.
Click here to see more photos of reader uploads or to submit your own.