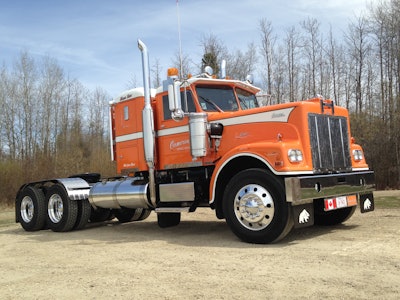 This 1974 Hayes Clipper was bought by its current owner, Trevor Cameron, in 1996. Cameron says the truck was built by Hayes Manufacturing in Vancouver, Canada, to be a driver training truck and was originally a single axle with a 671N Detroit with a 5&4 transmission.
Cameron bought it to restore and finished the project in the spring of 2000. His intention at that time was to put it to work as a winch truck doing light oilfield work in Alberta and western Canada, but "the end result of all effort turned out to be far too nice, so I just didn't have the heart to put her to work," he says. The rig has been a show truck since.
He notes that the restoration was more of a restomod than a faithful antique restoration, as it now features a 400 Cummins Big Cam 3, Eaton RTLO16713A transmission and fully-locking 46,000-pound Rockwell rears, along with a Spicer 1810 driveline. The suspension consists of an Airliner rear and International taper leaf up front. He also added power steering, which it did not originally have. The sleeper is from an A-model Kenworth.
Inside the rig, Cameron replaced all the gauges and added custom-hinged dash panels, along with intermittent electric wipers and tilt steering.
The truck got its official name, "Mama Bear," in 2009 as a tribute to Cameron's mother when they found out she had terminal cancer. The name is appropriate due to the grizzly bear hood ornament, Cameron notes.
Cameron is a second-generation trucker with more than 30 years behind the wheel.
More photos of the rig can be seen below.
Click here to see more photos of reader uploads or to submit your own.