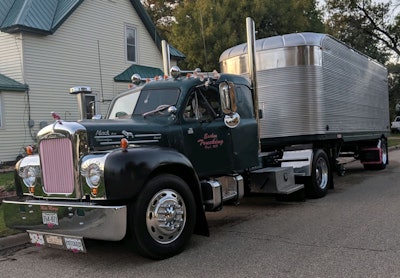 Diane Eschen and Eschen Trucking, out of Boyd, Minnesota, own this 1962 Mack B-61, "Miss Marge." Miss Marge features a 711 Mack Thermodyne engine with a 10-speed and 3:90 rears. It also features air ride suspension.
The rig's restoration began with stretching the frame and adding faster rear ends, dual chrome stacks, chrome wheels all around, chrome front headlight panels and upper fender panels, aluminum fuel step tanks, rear chrome light panels, Mack mudflaps and a few Mack bulldogs to accent the deck plating.
Inside the truck, Eschen replaced the floor and carpeted it, rebuilt the steering sector with an 18-inch wheel, added all new gauges and covers, made a new headliner, added green lights and numerous chrome accents throughout.
Eschen says she wanted to keep some of the truck original, so she added a bingo plate, CB license plate and oil bath air cleaner.
She also purchased a 26-foot 1947 Fruehauf stainless steel trailer that's also being restored with air ride suspension, chrome rims, new tires, new floor, "Miss Marge" fender covers and more. Most of the work on the rig has been done by Diane's husband, Dennis, and her nephew, Mike.
Eschen Trucking is a fourth-generation company that started hauling grain and hay, eventually expanding to flatbed and reefer. Miss Marge is used today solely as a show truck.
The rig got its name during the build process when Diane told Dennis she wanted to paint it pink. He told her he'd never drive it if she did, and she'd have to learn how to shift. She then decided to accent in pink and added eyelashes.
Click here to see more photos of reader uploads or to submit your own.