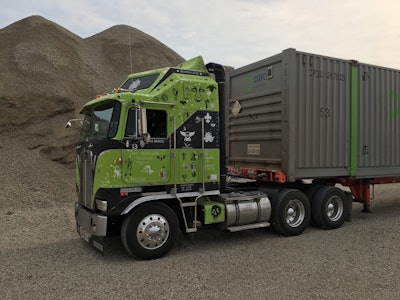 Chad Keegan bought this 1990 Kenworth K100E, which he calls "Frankenstein," after it had sat for about nine years after operating for a moving company. He says the truck "was a mess" when he bought it. The moving company had painted it white, and its original color was a blue sparkle paint. Keegan bought it from the man who bought it from the moving company, and he had hand-painted the green and left streaks and runs on the cab and frame, Keegan adds.
"When I pressure washed it, it started peeling off and showing the original paint, which I would have liked to restore," he says. "But I knew that wasn't a possibility at the time."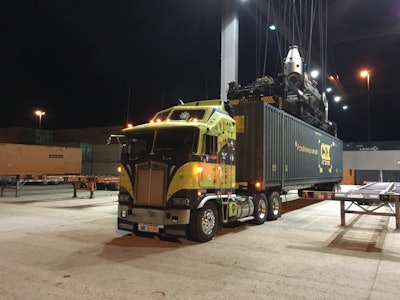 Instead, Keegan sanded it down smooth and cut into it to add a patina look and added the black and did the same, "but there's still open spots where the original paint can be seen." He painted the frame black to clean up the look but still keep a rat rod look to show its age. Keegan also added the bevy of decals. "By no means is this truck perfect, and that's what I wanted it to be. I know it's not for everyone, but it's for me. I built this truck for my comfort."
Keegan's operation is named Ugly Ducklings Trucking out of Defiance, Ohio, and he says this truck fits perfectly.
He started the restoration project by replacing two drive tires, which had been stolen before he bought the rig. He then began working on the interior by removing the seats and all interior panels for cleaning and removing the mice nests he found throughout it. He also had to run all new wires for speakers, CB antenna and added a Kenwood SiriusXM head unit with Kenwood speakers. He put in two new Bostrom low-profile seats.
Keegan replaced all the lights on the truck and replaced all the steel wheels with aluminum wheels. He also replaced the torsion bars and shocks, added new mud flaps (including those on the front bumper), added a single 5-inch straight pipe, replaced the passenger side tank with one he had on an '83 K100, and buffed and polished both tanks to bring back some of their original shine.
The rig is powered by a 3406B Cat with a 9-speed transmission. He currently leases the truck to ICG Logistics, out of Perrysburg, Ohio, and uses it to pull rail containers out of Campbell's Soup, Whirlpool and Cooper Tire to the North Baltimore, Ohio, CSX terminal. The truck also features an 86-inch Double Bunk Aerodyne.
Click here to see more photos of reader uploads or to submit your own.