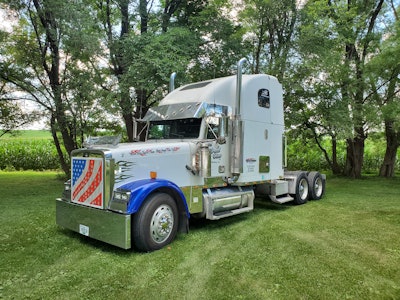 Andy Bledsoe, the owner of Gladbrook, Iowa-based Triple J Transport is leased onto Garrison, Iowa-based Grand View LLC with his 1997 Freightliner FLD132 Classic XL. Bledsoe bought the truck with 1,032,000 miles on it, and he has added about 100,000 since the purchase.
The truck sports a 600-hp 12.7-liter 60 Series Detroit with a 13-speed. The engine was originally setup at 430-hp, and it had been rebuilt at some point, Bledsoe says. He had it rebuilt and upgraded to 600-hp. It got an in-frame overhaul with block top end counterbore and remanufactured head to eliminate piston blowby. It has D14 injectors and a new 73mm BorgWarner turbo. The rig also sports 5-inch straight pipes, a reconditioned radiator, new fan and fan clutch with sensors and more.
Bledsoe uses the rig to haul seed for Corteva Agriscience to and from seed production plants, seed sales reps, seed warehouses and directly to farmers.
"We are involved in the entire agricultural growth and seed production process from beginning to end," Bledsoe says. "We haul new seed out in winter, we haul leftover seed back after planting is done, then we have some trucks haul raw crop in from the fields at harvest. Then the whole process starts over again."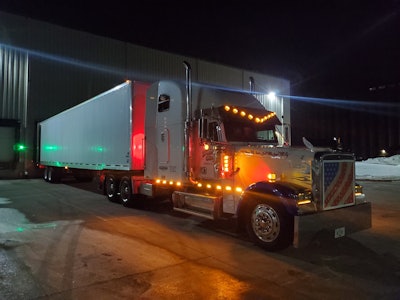 When Bledsoe bought the truck from its previous owner in Arizona, it had been backed into on the passenger side front fender and hood. He removed the hood, repaired the damage and painted it with the added Viper Blue Pearl fenders. A lot of the front end had to be rebuilt with new kingpins, bearings, tie rods and various other parts. He also replaced all the brakes and drums and gave the truck an all-axle alignment.
The custom detailing was done by Brad (Byrd) Reisinger, a friend of Bledsoe's and owner of The Sign Shop in Marshalltown, Iowa. The quote on the side of the hood, "Never Ride Faster Than Your Angel Can Fly," was given to Bledsoe by his wife of 38 years after he hit a deer on his motorcycle at highway speed and lived to tell about it. The bike, unfortunately, didn't survive the crash. He also has a flying angel hood ornament to go along with the quote.
Click here to see more photos of reader uploads or to submit your own.