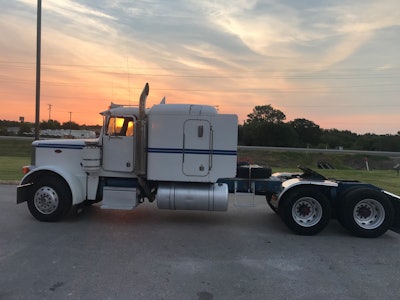 John Gillum owns this 1987 Peterbilt 379, which he says despite the similarities in paint scheme, is not a former BJ Hughes truck, as it is red underneath the white and blue paint. He has named the truck "Snakebit," as "it bites me almost every time I work on it," he says. When he bought the antique Pete, it was barely drivable, but now he has it to where it will crank without hesitation. Gillum says he's reached out to Peterbilt to get the original build sheet for the truck, which, per the title is a 379 model. He says it's really a 378, though. It's powered by a 3406C Caterpillar with a 13-speed transmission and unique 3:73 rears, not the normal 3:70s. He says he still has a long way to go with the truck, but people still enjoy seeing it as-is. He plans to add a new 6-inch straight exhaust in the next few weeks.
Gillum serves as the secretary of the North Texas Lone Star chapter of the American Truck Historical Society. He plans to show the truck at the 2021 Goodguys Lone Star Nationals car show at Texas Motor Speedway in March, where it "will probably be the only semi among the really fancy and expensive hot rods and custom built vehicles."
Click here to see more photos of reader uploads or to submit your own.