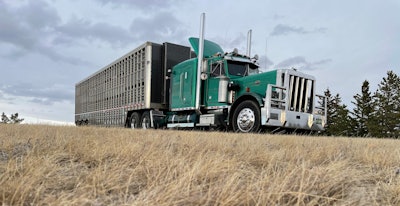 Coleman Kelts has owned this 1987 Peterbilt 359, "June," since he bought it from his father in 2013. He says the rig was purchased new by Ron Schippy, and a few years later, Mike Wascherol bought the truck and owned it for the better part of the 90s, up until 2003 when his father bought it.
"I grew up in this truck," Kelts said. "I was fortunate enough to buy it from my father in 2013. She was in sorry shape."
Kelts said the original frame was shot, so he clipped it with a 2006 low leaf clip and stretched it to 275 inches from the original 244-inch wheelbase. June is powered by a 425-hp 7FB Cat B model with a 15-speed overdrive and 3:90 rears in Super 40 housings. The paint is original except for the fenders and tanks, which were painted by Wascherol. The original odometer currently reads 2,788,800 kilometers (1,732,879 miles).
Click here to see more photos of reader uploads or to submit your own.