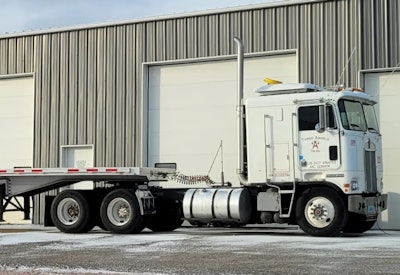 Roger Neaveill bought this 1983 Kenworth K100 recently and is working to make it into his dream truck. The truck features a 400-hp Big Cam Cummins with an 8-speed, which will soon be upgraded to a 13-speed
Neaveill started Three Angels Diesel Repair as a mobile diesel repair shop when he got laid off in 2020, but he couldn't stay busy enough to keep going, so he bought this truck to put to work over the road. He started out running van trailers, but he now runs flatbed under his own authority.
When he bought the rig, it needed a lot of work to make it road-ready. Neaveill has replaced the air bags, air lines over the drivers, brakes, wheel seals and more, as well as rewired part of the dash, pulled out the entire interior to clean it from top to bottom (including sweeping out the mice nests), and cleaned the floors and walls. He also had to paint the front end because it was yellow around the headlights. "I'm still working on it to turn it into the dream truck I have in mind," Neaveill said.
It's taken four months to get the truck to where it can go back out on the road. Neaveill notes that his wife helps him with the paperwork and other parts of his business.
Click here to see more photos of reader uploads or to submit your own.