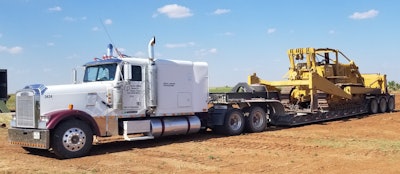 Anson, Texas-based Clifton Morrison purchased this 1995 Freightliner Classic from a friend, Steve Burk, before Burk passed away from cancer. Before the cancer made him too weak, Burk bought the truck from a scrap yard, and he and Morrison installed the Cat 3406E that's currently in it, along with a 10-speed. Morrison later acquired the truck, as Burk was downsizing, and he installed a 15-speed to help move some heavier loads. He runs 3:36 rears.
"We are known to have moved some special loads," Morrison said. "I am very thankful that I helped bring the truck back into service with a very good friend."
Click here to see more photos of reader uploads or to submit your own.