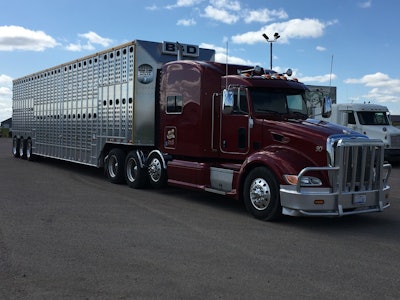 Kurtis Brock hauls livestock in the upper Midwest with this 2014 Peterbilt 386. Brock bought the truck used in 2016 with 232,000 miles on it. Since his purchase, Brock has moved the fuel tanks forward and mounted a fourth axle ahead of the drives to be able to maximize load capacity with the 53-foot, triple-axle Merritt livestock trailer. He runs up to 97,500 pounds. Powered by a Detroit Series 60 with a 13-speed, the truck now has 795,000 miles with a fresh overhaul.
Click here to see more photos of reader uploads or to submit your own.
For more video work and custom-equipment features delivered to your email inbox, subscribe to Overdrive's weekly Custom Rigs newsletter via this link.