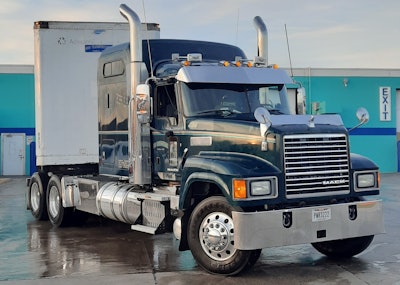 Matthew P. Lyle drives this 2016 Mack CHU613 Pinnacle for RWS Transportation located outside of Pandora, Ohio. The rig is powered by a Mack MP8 with an Eaton 13-speed. The truck's name is "The Green Hornet" in memory of Lyle's grandfather, who owned a Brockway back in the late 1950s and early 1960s of the same name. His grandfather is also the reason he became a truck driver, Lyle says.
Lyle's CB handle is "The Rubber Duck," given to him by his grandfather when he first learned to talk on the radio. Lyle says he loves the trucking industry and has a "no nonsense way of standing up for what is right and speaking out against what is wrong in our Industry. I'm as old school as I can get. I will stand up for and beside my fellow drivers, regardless of race or nationality or even if they are a new driver."
Click here to see more photos of reader uploads or to submit your own.
For more video work and custom-equipment features delivered to your email inbox, subscribe to Overdrive's weekly Custom Rigs newsletter via this link.