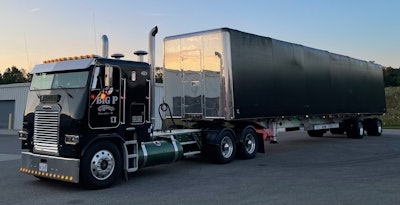 Noah Melton says driving this 1992 Freightliner FLA cabover "has been a dream come true," and "all I've ever wanted to do was drive a truck," he says. Melton's boss taught him to drive in 2017 when he was a senior in high school, and he skipped school to take his CDL test.
The rig sports a Cat 3406B with a 13-speed, which was rebuilt recently to put down 520-hp to the rear tires on the dyno. The truck almost made 700-hp on the first pull, Melton says, but he "turned it down for reliability and fuel economy," adding that he averages between 5.8 and 6.7 miles per gallon, depending on the load -- not bad "for a brick on wheels," he says. Melton mostly pulls a 53-foot conestoga between Chicago and Detroit.
Click here to see more photos of reader uploads or to submit your own.
For more video work and custom-equipment features delivered to your email inbox, subscribe to Overdrive's weekly Custom Rigs newsletter via this link.