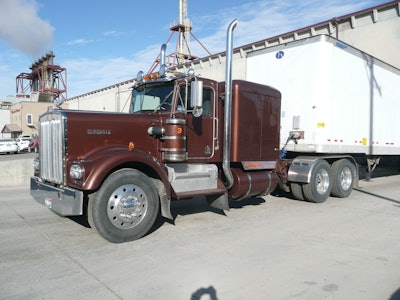 Vaughn Wood's 1972 Kenworth W925 was bought new by his father in August 1972. When new, it spent most of its time running between California and Montana, hauling produce and groceries for Montana Express. At the time, it was powered by a Detroit 8V92T, set at 430 horsepower. In the 1980s, it retired to the family farm hauling liquid fertilizer and farm commodities. Then in the early 1990s, the Woods put the current 400-hp Cummins Big Cam 3 in after a heater hose broke and they lost the Detroit.
Wood started restoring the truck, nicknamed "Brownie," in 2016. It's mostly retired today, but he does still run two or three short jobs a month pulling a step deck. "I am 66 years old and have been driving that truck off and on since it was new," he said. Wood also owns a 1966 Peterbilt 351A with a potato bed that was bought in 1986. The family contract hauls potatoes out of the field with that truck at harvest time.
Click here to see more photos of reader uploads or to submit your own.
For more video work and custom-equipment features delivered to your email inbox, subscribe to Overdrive's weekly Custom Rigs newsletter via this link.