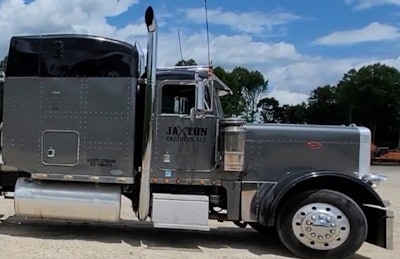 This 1994 Peterbilt 379 is owned by Woodruff, South Carolina-based Mary Beach, owner of Jaxton Carriers. Beach said "a bad day turned into a blessing allowing us to find out about this truck," and it was love at first sight. She bought the rig in November 2021, put some money into it, and "it is now a workhorse." While Beach owns the truck, her boyfriend is the operator. Powered by a 3406B Cat with an Eaton 13-speed, the truck is used on a dedicated run hauling precast concrete for parking garages and buildings in the Carolinas. Beach's company, Jaxton Carriers, is named after her boyfriend's grandson, who passed away before he was born.
[Related: Heavy haul in a '79 W900A? It's all in the family with this unit for owner Brian Ware]
Click here to see more photos of reader uploads or to submit your own.
For custom-equipment features delivered to your email inbox, subscribe to Overdrive's weekly Custom Rigs newsletter via this link.