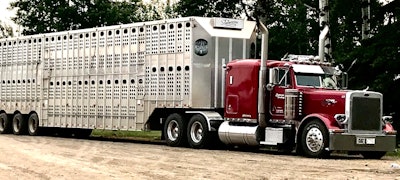 Billy Loewen is the third owner of this 1993 Peterbilt 379L, which he bought in 2003. The truck, according to its build sheet, is one of one. Notably, it's a 379L, and sports a low-leaf air ride suspension. It's powered by a 3406C Cat with Super Jakes, a 6&4 Spicer transmission, 3.70 rears and 200-gallon fuel tanks. The truck has been Loewen's workhorse "from day one." The truck has run highways, as well as worked in the oil field for a number of years when he first bought it. Loewen noted with the truck's rarity, he tries to keep it on pavement for the most part today, "but every once in a while you will find us on some bush road moving equipment of some sort."
[Related: Rebuilt, updated 1986 Peterbilt 359 a weekly worker]
Click here to see more photos of reader uploads or to submit your own.
For custom-equipment features delivered to your email inbox, subscribe to Overdrive's weekly Custom Rigs newsletter via this link.