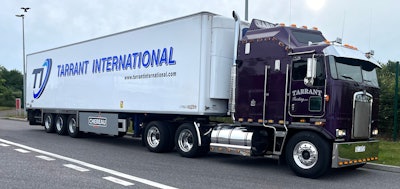 Fergal Tarrant with Tarrant international in Southern Ireland owns this 1989 Kenworth K100. The truck works daily on local loads and is driven by both Fergal and Donagh Tarrant. Powered by a Cat 3406 with an Eaton-Fuller 15-speed, Tarrant said the truck is the "only known working Kenworth in Ireland."
The K100 "was bought new in Canada on log work and was exported to Germany in 1993 as a show truck," said Tarrant. "A Dutch transport company owned by Pier Feenstra bought it in 2010 and it worked on European transport until we purchased it in April of this year."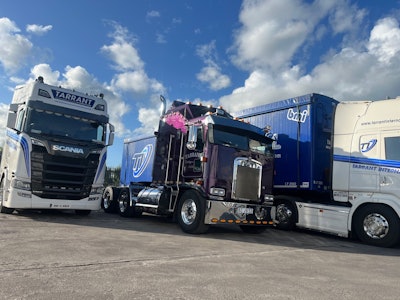 As for the custom touches on the already unique truck, Tarrant said there's plenty. "Custom paint, chrome visor, bumper, side running lights. Chrome side cab lights. Custom chassis infill. Hogebuilt fenders. Upgraded stacks. Interior chrome cab switches, retrimmed leather seats, wooden steering wheel."
It certainly stands, if not for being a cabover, as all of Tarrant's trucks are, but for being a Kenworth among a sea of European models.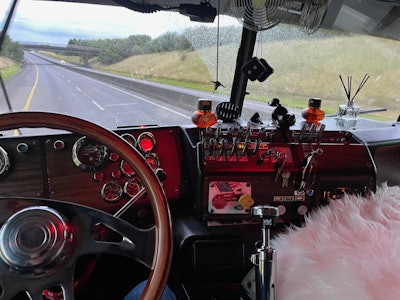 "With original engine and gearbox it's a testimony to Kenworth trucks to still be working all these years later. The truck was bought as a tribute to Liam who passed away in July of last year to mark his American routes in the haulage business 56 years since buying his 1st Kenworth," said Tarrant, referencing his late father Liam.
Click here to see more photos of reader uploads or to submit your own.
For custom-equipment features delivered to your email inbox, subscribe to Overdrive's weekly Custom Rigs newsletter via this link.
[Related: Atlanta-area towing company's 2003 Kenworth W900L]