Trucking news and briefs for Tuesday, April 27, 2021:
Senate Republicans respond to Biden's infrastructure plan with $568B proposal
In a response to the Biden administration's $2 trillion infrastructure plan unveiled in late March, Senate Republicans last week released a roadmap outlining their own $568 billion infrastructure proposal – effectively starting the bargaining process between the two sides for infrastructure funding legislation. U.S. Senators Shelley Moore Capito (R-West Virginia), Roger Wicker (R-Mississippi), Pat Toomey (R-Pennsylvania), Mike Crapo (R-Idaho), and John Barrasso (R-Wyoming) unveiled a framework to improve the nation's infrastructure, which includes significantly more funding for highways than Biden's plan.
"Republicans and Democrats agree that our infrastructure is in need of repair and expansion," said Sen. Capito. "We have an opportunity to develop bipartisan legislation that makes these long-term investments, while at the same time driving job creation and economic growth. But it's important that any infrastructure legislation have adequate funding levels and not be so large as to fail to launch, which means sticking to actual infrastructure."
[Related: Biden unveils $2 trillion infrastructure plan]
The Republicans' plan includes $568 billion in infrastructure investments over a five-year period through renewed federal policies and programs. Funding levels in their plan include:
Roads and bridges – $299 billion
Public transit systems – $61 billion
Rail – $20 billion
Safety – $13 billion
Drinking water and wastewater infrastructure – $35 billion
Inland waterways and ports – $17 billion
Airports – $44 billion
Broadband infrastructure (additional funding) – $65 billion
Water storage – $14 billion
[Related: Trucking groups weigh in on Biden's infrastructure plan]
'OATS' truck show organizers pull the plug on the event, citing COVID-related limitations on gatherings
A Facebook post from an account associated with the Holmes County, Ohio, fairgrounds caught the eye of several participants in and planned attendees of what had been billed as the Outrageous American Truck Show, or OATS, for months now. The post noted the event had been canceled, which was confirmed with a fairgrounds rep by Overdrive today.
That rep declined to say just why the cancelation occurred, however, and OATS organizer Matthew Kane, reached by phone, said that pulling the plug on the event in Ohio was his response to statewide occupancy orders for events establishments issued in March and still in place that limit most indoor events to 25% of seated capacity.
Kane said he'd been considering a potential venue change, but it was unlikely given the time between now and the July 8-11 dates for the event. "We're not dead in the water yet, but I'm definitely getting the life raft blown up," he said. Asked about tickets, which had been pre-selling for $99 for the full event, after dropping from a higher level upon first announcement late last year, Kane said "everyone's going to get their money back 100%." He said it would take him a couple of weeks go through the orders. "We'll be starting that whole process" soon.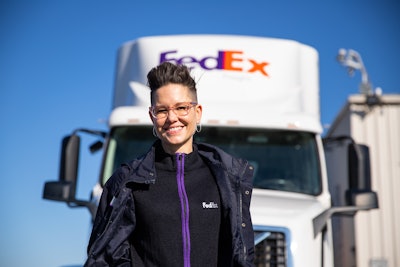 FedEx driver named Women in Trucking Driver of the Year
Nikki Weaver, a company driver for FedEx Freight, is the winner of the second annual Women in Trucking Driver of the Year award, which is sponsored by Walmart.
Weaver was among three finalists for the award. The other finalists were Carmen Anderson, a company driver at America's Service Line, and Ingrid Brown, independent owner-operator of Rolling B LLC.
Weaver has been a truck driver for more than 20 years. For the first seven years of her career, she was an over-the-road driver. Then, she became a company driver with FedEx Freight and has been with the company for 13 years. She now has more than 2 million accident-free miles and zero moving violations.
Since 2019, Weaver has served as an America's Road Team Captain. She was most recently a finalist for the Luella Bates Award at FedEx Freight and is a two-time winner of the prestigious Bravo Zulu Award, an award created by FedEx Freight founder, Fred Smith. She speaks to community colleges about the trucking industry, as well as the Pennsylvania State Police Academy's new commercial officer cadets.
She is an advocate for Truckers Against Trafficking and has attended their leadership conference and is also involved with outreach programs in her community.
"I am so honored to be recognize for this award," Weaver said. "I love being a professional driver and encourage any women who are considering this career to go for it."
Daimler recalling nearly 18k trucks for potential steering issue, small number of Kenworths recalled
Daimler Trucks North America is recalling approximately 17,822 trucks in which the steering arm and tie rod bolts may have a defective seam that can fracture, which could cause a loss of steering, according to National Highway Traffic Safety Administration documents.
The recall affects certain 2021-2022 Freightliner Cascadia; Freightliner Business Class M2; Freightliner 114SD, 108SD and 122SD; Freightliner Custom Chassis S2, XB, XC and MT Chassis; and Western Star 4700, 4900 and 5700 vehicles.
DTNA will notify owners, and dealers will replace the tie rod arm and steering arm bolts, free of charge. Owners can contact DTNA customer service at 1-800-547-0712 with recall number FL-884. NHTSA's recall number is 21V-256.
Additionally, Paccar is recalling approximately 56 model year 2022 Kenworth T440, T470, T800, and W990 trucks. According to NHTSA, in the affected trucks, the starter interrupt may allow the vehicle to start when the transmission is not in park. As such, these vehicles do not comply with the requirements of the Federal Motor Vehicle Safety Standard.
Paccar will notify owners, and dealers will inspect and reconnect the transmission and chassis harness, free of charge. Owners can contact Paccar customer service at 1-425-828-5888 with recall number 21KWB. NHTSA's recall number is 21V-262.
Utility recalling 2,700 dry van trailers
Utility Trailer is recalling approximately 2,752 model year 2006-2021 VS2DC, VS2DX, VS3DX dry van trailers. According to NHTSA, the horizontal weld that attaches a mild steel angle to the slider rail for super doubles/pintle hook operations may be missing. Without the weld, the slider rail may detach from the trailer.
Utility will notify owners, and dealers will inspect and, if necessary, add the weld, free of charge. Owners can contact Utility Trailer customer service at 1-800-423-6591 with recall number SB-07-015. NHTSA's recall number is 21V-243.