Trucking news and briefs for Friday, July 16, 2021:
DOT watchdog critiques FMCSA's CDL disqualification oversight
The Department of Transportation Office of Inspector General, in an audit of FMCSA's oversight of states' actions to disqualify commercial drivers when warranted, found that the agency has gaps and other challenges in this area.
According to OIG's report, states did not transmit electronic conviction notifications in a timely fashion 17% of the time, including 18% of 2,182 major offenses and 17% of 23,628 serious traffic violations. OIG also estimates that 11% of 2,182 major violations were not posted to driver records in a timely fashion, and 2% of the 23,628 serious traffic violations weren't posted at all.
"While states did take action to disqualify CDLs when appropriate, with exceptions, FMCSA's evaluation of paper conviction notifications is limited by states' processes for recording and tracking convictions sent by mail," OIG said. "Furthermore, FMCSA's Annual Program Review process lacks adequate quality control measures for verifying that state CDL programs meet federal requirements." The OIG also called states out for their own "noncompliance with federal CDL disqualification requirements," among other state actions that "pose challenges for FMCSA's oversight."
OIG noted that some states offered appeals to out-of-state drivers, overturned disqualifications, and backdated CDL disqualification periods, resulting in some drivers serving shorter disqualification time periods than federal law requires.
"While FMCSA has established annual program reviews to monitor state compliance, those reviews have gaps in the oversight of CDL disqualifications," OIG said. "These weaknesses may limit FMCSA's ability to keep unsafe CDL drivers off the road and enhance public safety."
OIG made seven recommendations to strengthen the agency's oversight, which FMCSA agreed to undertake:
Improving requirements for states to record, track and maintain paper-based convictions.
Finalizing and implementing standardized operating procedures for conducting annual program reviews.
Modifying the annual program review checklist.
Finalizing/implementing a standard operating procedure for determining when a state is not making a good faith effort to mitigate compliance issues, and when to impose sanctions on noncompliant states.
Completing FMCSA's review of the State Compliance Records Enterprise system.
Implementing improvements for managing states' compliance issues and developing and implementing a process to segregate non-CDL holder convictions from all CDL Information System reports.
Developing and implementing a plan for coordinating with the American Association of Motor Vehicle Administrators to mitigate risks when states transition to new software systems.
Trucker shut down following multiple violations
The Federal Motor Carrier Safety Administration has effectively shut down truck driver Kalilu Koneh for various CDL violations.
Koneh's records from the Texas Department of Public Safety show that he did not have any driver's license in the past three years and currently, he is not eligible to obtain any type of driver's license.
Nonetheless, FMCSA says Koneh repeatedly operated a commercial motor vehicle in interstate commerce in, at least, January, February and June 2021. Additionally, he falsely indicated on his commercial driver application that he possessed a valid driver's license, the agency notes.
On June 16, 2021, Koneh was notified of his positive test result for marijuana metabolites. Since marijuana is a Schedule I drug, Koneh is not qualified to operate commercial trucks. However, he continued to drive a truck in interstate commerce while disqualified, FMCSA said.
Additionally, in January, February, and March 2021, Koneh falsified records of duty status, according to FMCSA. On March 12-13, 2021, he operated a commercial motor vehicle in interstate commerce beyond the 11-hour driving limit and more than 14 hours after coming on duty.
Failure to comply with the provisions of the federal imminent hazard order may result in civil penalties of up to $1,928. Each day operating in violation of the agency's order will constitute a separate violation and may result in a separate penalty, FMCSA said. Knowing and/or willful violations may result in criminal penalties.
Georgia's I-16 closed after dump truck strikes bridge
On Thursday, July 15, the raised dump trailer of a truck slammed into a bridge over I-16 in Georgia, dislodging it from its supports and shutting down traffic on the interstate that connects Atlanta to the Port of Savanah on the Atlantic Coast.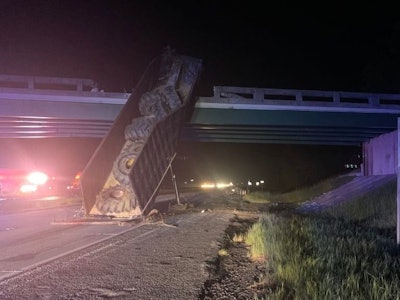 The interstate is shut down in both directions from Exit 71 to Exit 78 due to a large dump trailer hitting the SR 86 bridge and shifting it nearly six feet.
To repair the bridge, it must be demolished and replaced. GDOT says the interstate will remain closed "for the next few days until the bridge can be removed and the interstate safely reopened to traffic." Currently, GDOT is working to reopen one lane of I-16 Westbound to traffic by Sunday, July 18. One lane of I-16 Eastbound is expected to open to traffic by Monday, July 19. GDOT anticipates a full reopening of all travel lanes of I-16 by the end of next week, weather permitting. There is not a timeline established as yet for how long it will take to replace the Highway 86 bridge.
A signed detour is being put in place, and drivers are encouraged to find an alternate route if possible, given the anticipated traffic volumes. Westbound drivers are encouraged to take Exit 78, turn right onto Highway 221 North, left onto U.S. 80 West, go through the town of Adrian, turn left onto State Route 15, and re-enter I-16 at Exit 71. Eastbound travelers should take Exit 71, turn right onto Highway 15, go through Soperton, turn left onto State Route 46, left onto State Route 56, then re-enter I-16 at Exit 78.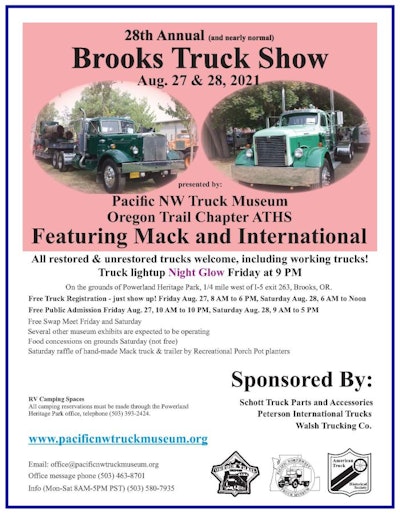 OOIDA offering free 'Truck to Success' preview
The Owner-Operator Independent Drivers Association will offer a free preview of its online series of classes to help those interested in starting a small trucking business.
The "Cost of Operations" is one of the most popular topics, the group said, and will be featured as a one-hour webinar on Tuesday, July 20, at 7 p.m. Central. The event is open to OOIDA members and non-members.
This segment is just one of a complete course in OOIDA's business education series Truck to Success, a three-day, intensive training effort for those ready to take their first steps toward becoming an owner-operator. The full course is scheduled for Oct. 26-28, 2021.
Those who attend will hear from trucking experts dedicated to helping drivers become successful business owners. The training is designed to follow a logical path along the transition from a company driver to an independent contractor.
Registration for Tuesday's free webinar is available here, while registration for the full course in October is available here.
[Related: Know the value of your time to assess true profit]