Trucking news and briefs for Monday, July 12, 2021:
Trucker shut down by FMCSA following DUI
The Federal Motor Carrier Safety Administration has effectively shut down truck driver Robert L. Webb after a DUI arrest on June 28.
Webb was stopped by Delaware State Police for a load securement violation in New Castle, Delaware, during which troopers detected the smell of alcohol coming from Webb.
Webb was transported to a Delaware State Police Troop where he was administered a series of sobriety tests and a breathalyzer test that showed a blood alcohol content of .254, which is six times the legal limit for commercial motor vehicle operators. Accordingly, Webb was performing a safety-sensitive function, driving, while having an alcohol concentration greater than .04 in violation of 49 CFR § 382.201.
Additionally, while searching Webb's vehicle, troopers found an open 12-pack of beer in the sleeper with only two remaining and an opened, still cold, beer outside the box.
This was Webb's second driving under the influence offense. On March 10, 2014, he was convicted for driving a commercial motor vehicle under the influence of alcohol with a BAC at or over .04.
The state of Delaware charged Webb with operating a commercial vehicle with a BAC of .04 or above in violation of Delaware Code § 21-4177, possession of alcohol in violation of § 21-4702 and in violation of federal regulation 49 CFR § 392.5, improper load securement in violation of § 21-2702 and in violation of federal regulation 49 CFR § 393.110, and failure to remain in a single lane in violation of § 21-4122.
Webb may not operate a commercial motor vehicle in the United States until he successfully completes the required return-to-duty process overseen by a Substance Abuse Professional.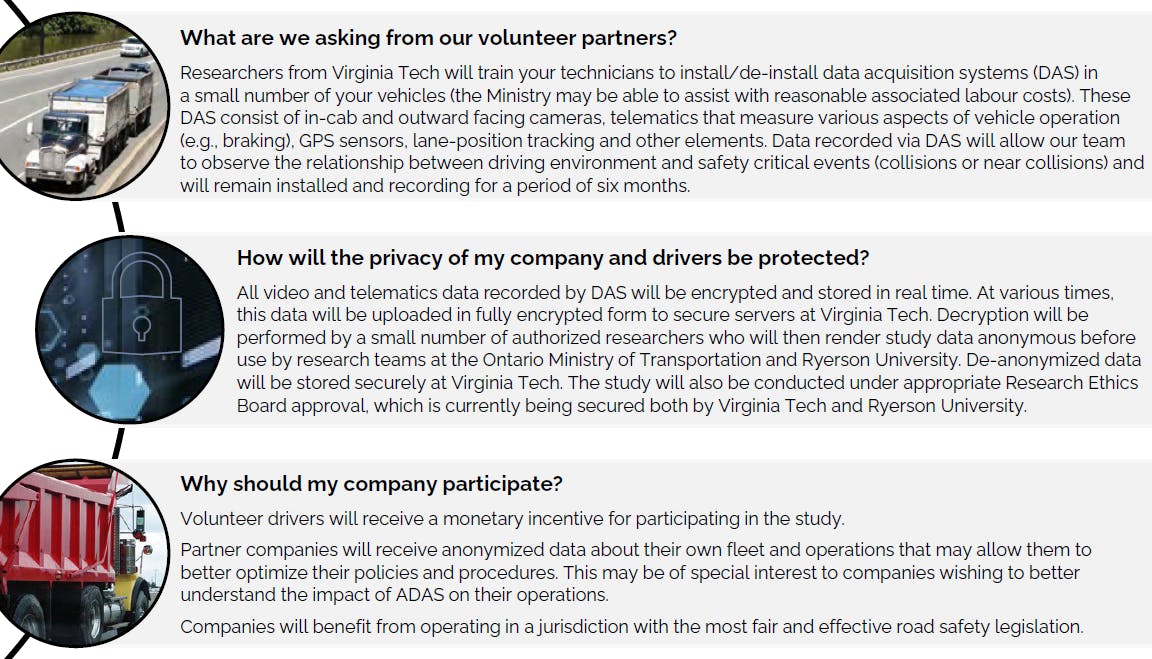 Volunteer carriers needed for distraction study | The image above is from a flyer requesting research participants from the Ontario, Canada, Ministry of Transportation; Virginia Tech Transportation Institute; and Ryerson University. The orgs are starting to conduct a naturalistic driving study to learn more about the road-safety impact of new in-vehicle technologies and electronic-device use by commercial drivers. Results from the study, it's hoped, will provide insight on sources of distraction within commercial vehicles during a period of rapid technological change. This will allow Ontario to tailor its policies and education programs to maintain road user safety without placing unnecessary burdens on businesses. Results may also provide insight into the safety benefits or risks associated with in-vehicle technologies, including various advanced driver assistance systems (ADAS) such as automatic emergency braking, lane-keeping and -departure warning and others. A relatively small number of carriers are needed that operate at least some portion of the fleet entirely within Canada, and that employ their own team of mechanics/technicians. Researchers "plan to install DAS in 20 vehicles from a small number of commercial carrier companies" starting this summer. After a data collection period of six months, devices will be transferred to a new set of vehicles for another six-month period. Those interested in participating can contact Patrick A. Byrne.

Houston trucker gets prison time for human smuggling
A 32-year-old truck driver based in Houston, Texas, has been ordered to federal prison for conspiracy to transport illegal aliens, according to U.S. Attorney Jennifer B. Lowery in the Southern District of Texas.
Brodrick Keith Rhodes pleaded guilty to the charge on April 7. He was ordered to serve a 50-month sentence in prison, immediately followed by three years of supervised release. In handing down the sentence, Judge Drew B. Tipton noted that Rhodes had transported an exceptionally high number of immigrants in his trailer.
On Jan. 12, Rhodes arrived at the Freer Border Patrol checkpoint driving a truck with a reefer trailer. He claimed he was hauling lettuce, but authorities noticed discrepancies with his bill of lading. They also noted he appeared nervous and that the trailer was set to 30 degrees but with an internal temperature of 68.
At secondary inspection, law enforcement ultimately found 119 immigrants in the trailer's cargo area.
Rhodes claimed he worked for a business in La Porte, Texas, but the bill of lading indicated he was transporting lettuce from a Laredo produce company to a location in Sugar Land, Texas. The business indicated Rhodes had never been employed with them nor do they even transport outside the Houston area. The other two companies confirmed they had no record of the shipment.
The immigrants told authorities they had been taken to a truck and told to get in the trailer. It soon departed and did not stop until it reached the checkpoint.
Calif. trucking company owner arrested for PPP loan fraud
The owner of trucking companies in the Inland Empire and elsewhere in California, who was out on bond awaiting trial in a separate federal criminal case, was arrested last week on a criminal complaint alleging he fraudulently obtained more than $667,000 in Paycheck Protection Program (PPP) COVID-19 pandemic relief funds.
Carl Bradley Johansson, 62, of Newport Beach, was arrested July 8 and is charged with one count of bank fraud and one count of conspiracy to commit bank fraud.
Johansson was on pretrial release in a separate case that remains scheduled to go on trial on Sept. 14. In that matter, Johansson is alleged to have schemed to defeat federal transportation laws by ordering the illegal repair of an oil tanker that resulted in a fatal explosion in 2014, and to have unlawfully avoided the payment of at least $298,562 in federal income taxes from 2012 to 2017.
According to an affidavit filed with the complaint, in April 2020, under Johansson's direction, the Ontario-based trucking company Western Distribution LLC applied for a PPP loan in the amount of $436,390. Johansson's son was listed as the company's owner on the loan application and the loan application was approved.
Under Johansson's direction, Western Distribution immediately spent its PPP funds in May and June 2020, in large part on expenses unrelated to its payroll. Rather than use the funds to keep the company's employees on staff, Johansson laid off most of the company's employees, but rehired many of them in late 2020.
Also in April 2020, a different Johansson-controlled trucking company – a Merced County-based business identified in the affidavit as "Company A" – applied to another federally insured bank for its own PPP loan in the amount of $286,505, according to the affidavit. Johansson's 85-year-old mother was listed as Company A's owner on its PPP loan application, which was approved in the amount of $286,500.
To create the impression that Western Distribution had spent more of its PPP loan on its payroll than it actually did, in September 2020 Johansson moved 21 of Company A's employees onto Western Distribution's payroll, even though those employees never worked for Western Distribution, the affidavit alleges. This allegedly occurred just before the company's 24-week window for spending its PPP funds closed.
As a result of this ruse, Western Distribution could falsely claim on its PPP loan forgiveness application in January 2021 that the company had met the requisite threshold of spending at least 60% of its PPP loan on payroll, according to the affidavit.
In March 2021, Johansson allegedly caused Western Distribution to repeat the same fraudulent representations concerning its employee lists and payroll numbers when the company submitted a second PPP loan application, this time for $231,527. The second loan application was approved.
The total loss alleged in this case is approximately $667,917.
If convicted of both charges, Johansson would face a statutory maximum sentence of 70 years in federal prison.