Trucking news and briefs for Tuesday, Dec. 7, 2021:
Third-party CDL examiner charged with fraud
A third-party CDL examiner in Pennsylvania has been charged with wire fraud in connection with an alleged CDL scheme.
According to the Department of Transportation Office of Inspector General, Roberto Correas, while employed as a CDL program supervisor, allegedly provided pre-signed CDL skills exam score sheets to a co-conspirator, knowing the co-conspirator would complete the sheets with passing scores for drivers who did not actually take the test to fraudulently qualify them for CDLs.
Correas also allegedly conducted CDL skills tests for a company, and applicants paid $275 for each exam. Correas did not submit those payments to the company and kept the money, OIG says.
[Related: 'You just lose' when middlemen don't pay: Broker reform eight years in the waiting]
Auxiliary power unit maker launches branded 10W30 diesel engine oil
The Green APU company announced the release of a new branded line of 10W30 heavy-duty diesel engine oil. The product is specifically designed to be used in the company's auxiliary power units. The company is the only APU manufacturer with its own brand of oil in the marketplace.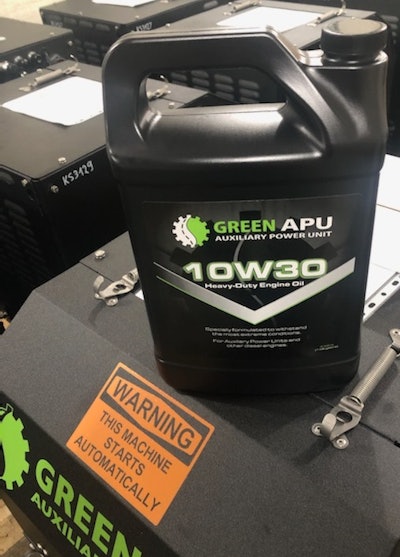 Before bringing the new oil to market, Green APU tested the product in its own fleet of trucks for more than two years, finding the 10W30 formulations delivered good wear protection and durability. It's formulated with synthetic-blend base stocks, advanced additive technology and friction-reducing chemistry. In addition to optimizing fuel economy, the company said, other benefits include long-lasting soot and oxidation control, supporting maximum service intervals.
The oil is capable of use in other APU and truck engines, and is available at all Green APU distribution centers across the United States.
[Related: One operator's hack for cost-effective in-cab climate control to avoid idling]
Paccar Financial launches enhanced used truck website
Paccar Financial Corp. (PFC) has launched an enhanced website for used truck customers.
The site includes a suite of new features that make it easy to browse and search available inventory at PFC's five Used Truck Centers in North America. It also allows customers to track their list of offers, view their purchase history, and save their favorite search filters for easy access later.
Additionally, customers can now create and save a Wish List of equipment specifications and be automatically informed when units that match these requirements become available for purchase.
St. Christopher receives $21k donation
Independent truck stop and service center company Ambest is giving back to the truck driver community with a total donation of $21,086 to the St. Christopher Truckers Relief Fund.
Over the past few years, Ambest has raised more than $80,000 for SCF to help truck drivers and their families who have financial needs due to current medical problems. Ambest owners, employees and even drivers helped raise $11,086 on Tuesday, Nov. 30. That amount combined with the Ambest corporate match of $10,000 brings the grand total donated to SCF to well over $100,000 recently.
"The past two years have been tough on everyone," said Ambest President and CEO Steve Allen. "But particularly hard-pressed have been the professional drivers across the country. Our Ambest locations work hard every day to take care of drivers, and the money donated will further help and bless them in their time of need."
Pilot opens new Missouri location
Pilot Company is opening a new Pilot Travel Center in Faucett, Missouri, this month.
The newly built store is located at the site of the former Ferris Truck Stop at exit 35 on I-29.
It offers 55 truck parking spaces, eight diesel fueling lanes, a Taco Bell restaurant, seven showers and more.
"We've been serving travelers in the state of Missouri for nearly 30 years and look forward to fueling more journeys with the opening of our 23rd location in Faucett," said Jason Nordin, Chief Operator of Pilot Company. "We appreciate the history of the Ferris Truck Stop and are passionate about being that friendly place the community and drivers can count on for all their travel and trucking needs. Our team members, including some familiar faces that worked at the Ferris Truck Stop, are excited to welcome guests to experience everything our new travel center has to offer."
Michelin raising tire prices
Michelin North America, Inc., has announced price increases up to 16% on both on- and off-road commercial tire and service offers due to market dynamics. These increases will be effective Jan. 1, 2022, in the U.S. and Canada. These updated prices will come into effect for orders invoiced starting on Jan. 1, 2022.
Price changes may vary across specific products within each brand portfolio. Details will be presented to dealers, end-users and commercial equipment manufacturers by Dec. 15 with additional questions addressed directly through account managers.