Trucking news & briefs for Friday, Dec. 3, 2021:
Jobs report shows transportation growth
The federal Bureau of Labor Statistics' monthly jobs report for November showed an estimated 50,000 payroll jobs added over the course of the month in its transportation and warehousing category, which includes truck transportation. Employment levels in that sector are approximately 210,000 above the pre-pandemic February 2020 level.
In November, the most notable subcategories showing growth were couriers and messengers (+27,000) engaged in more local delivery, and warehousing and storage (+9,000).
Payroll employment, transportation and warehousing, November 2001-November 2021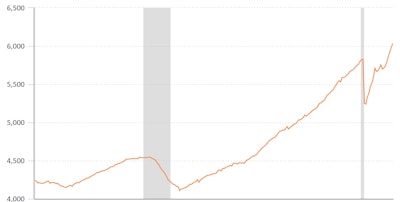 All in all, total nonfarm payroll employment rose by 210,000 in November, BLS said, and the unemployment rate lost 0.4 to 4.2%. In addition to transportation and warehousing, notable job gains occurred in professional and business services, construction, and manufacturing. Employment in retail trade declined over the month.
[Related: Strong freight, rates environment expected to last through 2022]
7 ELD providers now certified in Canadian approved registry
As reported earlier in the year, Canada's electronic logging device mandate's June compliance date for required carriers to begin using an approved ELD came and went without a single device listed on the nation's device registry. Earlier in the year, that had prompted the Canadian Transport Ministry to pump the brakes on enforcement of the mandate. The nation's transport minister announced an intent to work with industry and others on details of a "progressive enforcement period" to begin with "education and awareness" exclusively.
As of today, 7 providers have a total of eight devices on the registry, having undergone the required third-party approval process. Among them were well-known names in the U.S. e-log market like Samsara, Trimble and its PeopleNet sytem and Pedigree Technologies, among others.
Samsara noted its existing customers can now choose to activate mandate-specific ELD features at any time during the progressive enforcement period.
[Related: What you need to know about the Canadian ELD mandate]
The Canadian government has signaled its initial enforcement period would last at least through June of 2022 as more already-in-use devices are certified.
You can keep tabs on the Canadian ELD registry via this link.