As any independent who follows trends in freight and rates will surely know, the current trucking environment is one of the best in history from a demand perspective, and that strong environment for rates is expected to continue.
ATBS President Todd Amen, in an Overdrive's Partners in Business webinar Thursday (the replay is above), said all signs are pointing to the current cycle lasting through the end of 2022.
"We're already 18 months into this cycle, and by all accounts ... a traditional trucking cycle will be somewhere between 12 to 24 months of good for the truckers and then it'll be three to four years of bad," he said. "So it's like quick up, and a slow, gradual decrease when you think about rate and freight cycles. By all accounts, we're already most of the way into a really good freight cycle, and it should turn."
However, "Most people are saying this could last all the way through 2022," he added, "which would be amazing. It would be a 30 month-plus. almost-going-on-three-years positive freight cycle for truckers, which is incredible."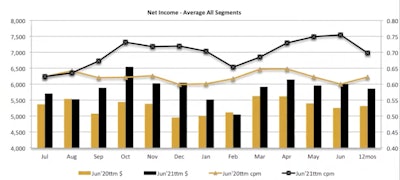 As previously reported by Overdrive, average owner-operator income is at an all-time high at more than $70,000 a year, a 10.2% increase over 2020, according to ATBS. That increase has been driven in large part by the spot market, where rates have jumped considerably with lower capacity and more freight after the early COVID shutdowns last spring.
A lack of drivers due to a variety of factors, including the Drug and Alcohol Clearinghouse, an aging driver population, a booming economy possibly pulling drivers away from trucking and into other industries and more, coupled with the slowed-down ability to purchase new trucks because of parts shortages, is keeping capacity at an equilibrium as demand explodes. That's keeping rates high.
"It's not just drivers, it's also trucks, which is frustrating as an industry," Amen said. "But at the end of the day, it's an equalizing thing among all of us, and we can't add a lot more capacity like we traditionally have done. At the end of the day, that's a great thing because it's keeping capacity at a certain level while we have a high amount of loads, and that's what's kept rates as high as they are for as long as they have [been], and what foreseeably is going to keep that happening all the way through 2022."
[Related: ATBS: Owner-operator income at mid-year in record territory after 10%-plus gain]
Amen noted that, unlike most industries, when times are good in trucking, operators tend to run fewer miles. That trend has played out over the last 18 months, as well, with average owner-operator miles down about 1.5%. Amen said that when money is flowing in, operators tend to spend more time at home with their families because the extra cash flow gives them that extra freedom.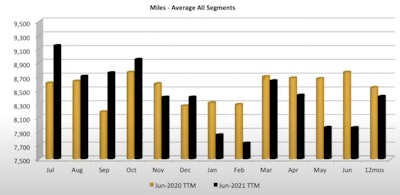 While times are good right now, Amen said owner-operators should be considering their next move for when the market does turn back in favor of shippers.
"What I'm thinking about right now if I'm you is, 'OK, I'm halfway through this cycle, I'm killing it, making a ton of money on the spot market,'" he said. "But what happens is when freight dries up, there gets to be too many trucks, the spot market goes to crap, and it may pay me less than going to work for that fleet. I've gone out and borrowed money against my home on a second mortgage, or I've leveraged things to get my trailer and pay for my insurance. So how am I going to do that when the market turns?"
Amen said operators should soon be looking at answering that question by looking at tying up some good-paying freight with shipper contracts or possibly looking into carriers to lease onto -- those carriers already have long-term contracts that will carry them through the down cycle.
"I just say that simply because I've seen so many people that flock to the spot market like this, they kill it for a year and then they're broke," he said. "They lose everything they had because they weren't prepared for the downturn. So think about what happens when the downturn comes, save money so you can get through the downturn to the next cycle."
What's happening with per diem?
There have been two notable changes to per diem recently that all truck drivers should be aware of. The first is that the daily per-diem rate has increased from $66 to $69. There has also been a change to the meals deduction that is a little bit more complicated than the simple per diem rate change that happens every few years.
During COVID, Amen said, the government wanted to encourage people to go back to restaurants to help them stay in business. To do this, they increased meals deductibility for businesses, which for non-truckers had been at 50%. The Trump administration increased that deduction to 100%. The rate for truck drivers, however, has always been 80%, and when the change for non-truckers went into effect, it was unclear where the deduction for truckers stood.
The IRS initially said drivers' meal deduction remained at 80%, but after some discussions with industry stakeholders, truckers were included in the increase to 100%.
However, the 100% deduction is on true meal receipts, Amen said. So now, instead of getting a flat $69 for per diem and not worrying about keeping meal receipts, Amen said truckers should hold onto their restaurant receipts to prove those meals were from restaurants.
"Up to this point, we've always told our drivers to throw away your meal receipts – you don't need them because you get an automatic $66 a day, just moved to $69," Amen said. "But for this year, I would keep those meal receipts so that you have a valid proof. If I eat every breakfast at a truck stop because I like my bacon and eggs, and then I don't eat lunch and dinner, so I eat 30% of my meals in a restaurant. Definitely keep those receipts so you've got some backup."
ATBS worked with the IRS to help devise a formula to account for restaurant meals that, if tracked routinely, will amount to bonus deductions based on that percentage of meals eaten at a restaurant. He urged owner-operators to bring it up with their accountants. Read a more full explanation of the formula via this link or catch Amen's discussion of it in the replay at the top.
See the full hour-long report on owner-operator benchmarking, the state of the current freight market and an outlook for the coming months in the video at the top of this story.