Trucking news and briefs for Thursday, Oct. 28, 2021:
New bill would exempt truckers from COVID vaccine
U.S. Sen. Marsha Blackburn (R-Tennessee) introduced a bill this week that would, if passed, exempt all "essential workers," including truck drivers, from President Joe Biden's proposed vaccine mandate.
The "Keeping Our COVID-19 Heroes Employed Act" calls for an exemption for essential workers from any COVID-19 vaccine mandate imposed by the federal government; a public or private federal contractor; a private entity receiving federal funds; or a public entity receiving funding under the Coronavirus Preparedness and Response Supplemental Appropriations Act, 2020; the Families First Coronavirus Response Act; the Coronavirus Aid, Relief, and Economic Security Act; the Paycheck Protection Program and Health Care Enhancement Act; or the American Rescue Plan Act of 2021.
Blackburn's bill describes essential workers as those who were "deemed essential during the response to the COVID-19 pandemic" or those who were "exempt from any restrictions in response to the COVID-19 pandemic."
The Owner-Operator Independent Drivers Association, National Association of Small Trucking Companies and other groups have come out in support of the proposed legislation. OOIDA President and CEO Todd Spencer said the vaccine should remain a personal decision for truckers.
"Throughout the pandemic, we have provided our members with the most up-to-date information on vaccines but have always maintained that vaccination is a personal choice just like any health decision," he said. "Trucking is already one of the most-regulated professions in the country, and the ongoing supply chain crisis has exposed the unpaid wait times and other difficult working conditions drivers are often forced to endure. These are just a couple of the reasons the industry has long suffered from an excessively high driver turnover problem. Congress must ensure that the industry can better attract and retain drivers who have always been critical in keeping the supply chain moving. This legislation will help accomplish that."
[Related: An edge on growth: One way small fleets might benefit from large-employer vax/test mandate]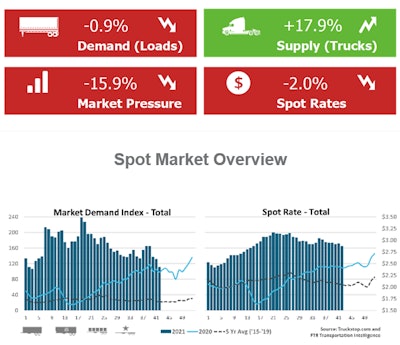 Kenworth dealer auctioning T680 for Truckers Against Trafficking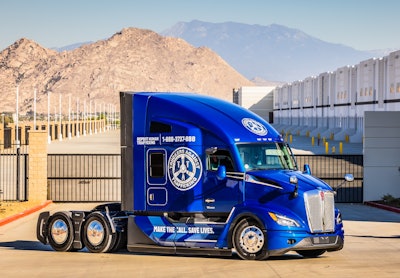 Inland Kenworth – Phoenix is planning to auction a special "Everyday Heroes" Kenworth T680 Next Generation to raise money for education on and efforts to combat human trafficking.
Proceeds from the sale of the truck will go directly to Truckers Against Trafficking, a non-profit devoted to stopping human trafficking by educating, mobilizing and empowering the nation's truck drivers and rest stop employees.
The Everyday Heroes Kenworth T680 Next Gen is fully-loaded with a 76-inch sleeper and Paccar Powertrain featuring a 510-hp Paccar MX-13 engine, Paccar TX-12 automated transmission and Paccar DX-40 rear axles. Ritchie Bros. will host the auction of the Everyday Heroes Kenworth on Dec. 10 in Perris, California.
"I think this year's auction for the Everyday Heroes truck will be our best yet," said Don Blake, Inland Kenworth – Phoenix new truck sales manager. "There's been a lot of interest in the T680 Next Gen, and we expect a good bidder turnout. The sale of the truck will likely result in TAT's largest single donation of the year and help fund programs that make a difference."
This will be the third Everyday Heroes Kenworth truck built and sold at auction since 2017 under Blake's leadership. The inaugural Everyday Heroes Kenworth T680 raised $83,000 for TAT in 2017, while the 2019 version contributed $162,000 to the cause.