Trucking news and briefs for Monday, Oct. 25, 2021:
FMCSA's Joshi discusses trucking challenges with industry orgs in Midwest
Federal Motor Carrier Safety Administration Deputy Administrator Meera Joshi last week met with several transportation organizations in the Midwest as part of efforts to strengthen commercial vehicle safety, bolster truck driver availability, and improve rail-to-truck supply chain efficiencies. The meetings were part of efforts by the Biden Administration to address supply chain disruptions.
Truck driver retention and recruitment have been a focus of the White House Task Force on Supply Chain Disruptions. The core reason for America's truck driver capacity issue is the "startlingly low retention of current drivers," according to a statement from the FMCSA.
[Related: The driver shortage alarm]
"Truck drivers are essential professionals who have been working on the front lines of this pandemic," Joshi said. "It's hard to overstate the critical nature of trucking to the wellbeing of our nation. Truck driving is a vital segment of the supply chain, and our focus is on continually enhancing workplace practices while improving efficiencies including decreasing driver detention time while ensuring the highest level of safety possible for every roadway traveler."
During her Midwest trip, Joshi met with representatives of the Illinois Farm Bureau Association, the Illinois Trucking Association, Union Pacific Railroad's Global IV Intermodal Terminal, and at a United Parcel Service driver training facility.
A statement from the FMCSA said discussions covered a broad range of strategies to improve supply chain movement and roadway safety including:
Streamlining the transport of fuel to farm equipment
Beneficial updates to electronic logging devices
Replicating proven driver training and retention models
Ways to improve rail-to-truck intermodal chassis maintenance and chassis availability
[Related: Intermodal haulers fight off 'system collapse' at ports]
Inaugural American Truckers Jubilee truck show set for this weekend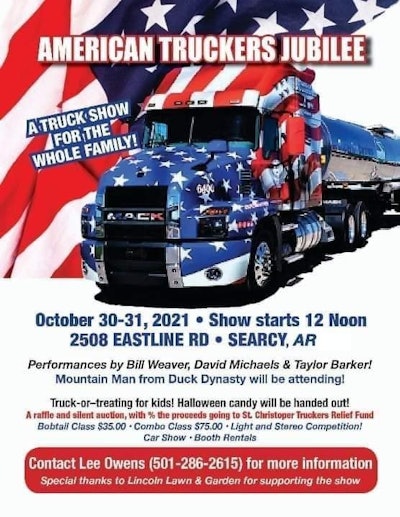 After holding a truck show for a few years that was more of a "good old boys' meeting," American Truckers Jubilee organizer Lee Owens says he decided this year to rebrand the event with goals to grow the show in the coming years.
Owens is considering the 2021 show – which will be held this weekend, Oct. 30-31, in Searcy, Arkansas – the inaugural show since it's the first under the new name. The last few years, he has put on the Old School Unity Truck Show, but "that sounded like we were just looking for old truckers," Owens said. "I was thinking it would be great to make it patriotic with a name everybody would want to associate with besides old truckers, and I came up with the American Truckers Jubilee.
The Jubilee will feature live musical performances from former Overdrive-Red Eye Radio Trucker Talent Search winner Taylor Barker, Bill Weaver and David Michaels. There will also be an appearance from Mountain Man of "Duck Dynasty" fame.
Since the show lands on Halloween weekend, there will be "truck-or-treating" and candy handed out to children. There will also be food vendors at the show.
A raffle and silent auction will be held, with half of the proceeds going to the St. Christopher Truckers Relief Fund.
Being a truck show, there will be awards handed out in several categories, including show truck bobtail and combo, working truck bobtail and combo, lights and more. The entry fee for bobtails is $35, and the entry fee for combos is $75. Hot rods, cars and pickups can also enter the show on Saturday only for $20.
The show will open at noon on Saturday and Sunday, but trucks can begin arriving Friday, Oct. 29, at noon. The deadline to show up and enter the competition is noon Saturday. The show is being held at 2508 Eastline Rd., Searcy, AR.
Volvo recalls certain 2022 VNL tractors
Volvo Trucks is recalling approximately 162 model year 2022 VNL tractors for an issue with the automated transmissions, according to National Highway Traffic Safety Administration documents.
According to the recall, the electronic control unit software may allow the transmission to shift into neutral unexpectedly. Included in the recall are 2022 VNLs manufactured between Jan. 4, 2021, and Oct. 4, 2021, with a Cummins ISL and Eaton Endurant transmission. The software issue is with Volvo Electronic Control Unit software and is not an Eaton or Cummins issue, the recall states.
Dealers will reprogram the ECM free of charge. Owners can contact Volvo Trucks' customer service at 1-800-528-6586. With recall number RVXX2104. NHTSA's recall number is 21V-781.
[Related: Daimler recalls Cascadias over exhaust issue]
UPS named 2021 TAT Champion Award winner
UPS was named the winner of the 2021 Truckers Against Trafficking Champion Award in the Organization category.
Kendis Paris, executive director of TAT, presented the award to Lou Rivieccio, UPS Corporate Transportation president, and Nikki Clifton, president of UPS Social Impact and the UPS Foundation, at a luncheon at the American Trucking Associations Management Conference and Exhibition.
UPS began its partnership with TAT in 2016. Its work with TAT includes being a TAT sponsor at the highest – North Star – level, training more than 100,000 of their drivers, donating over 40 hauls for TAT's mobile museum to events across the nation, allowing employees to be involved in numerous capacities with TAT on company time to spread awareness of human trafficking and the fight against it and serving on TAT's Board of Directors since 2012. UPS also uses its influence through the trucking industry to encourage other companies to become TAT trained.
UPS has adopted an enterprise-wide anti-trafficking-in-persons policy, which strictly prohibits the use of any UPS assets or resources for any purpose that would enable the trafficking of persons. They partner with the DHS Blue Campaign and teamed up with Wellspring, a Georgia-based survivor's advocacy program, to provide employment opportunities to survivors of human trafficking.
UPS is also leveraging the power of corporate philanthropy to invest in organizations like the United Way Worldwide's Center on Human Trafficking and Slavery and the Leadership Conference on Civil and Human Rights. Additionally, UPS employees have donated more than $5 million toward the Anti-Human Traffick Impact Fund through United Way Center on Human Trafficking & Slavery.