Trucking news and briefs for Friday, Oct. 22, 2021:
ATA requests trucking exemption from vax mandate
American Trucking Associations (ATA) President and CEO Chris Spear on Thursday submitted to the White House a formal request that truck drivers be exempt from President Joe Biden's looming vaccine and COVID testing mandate, expected to apply to companies above a 100-employee threshold.
Occupational Safety and Health Administration (OSHA) last week sent its vaccine mandate recommendation, the details of which have not been made public, for review. Spear said his group has been in "constant communication" with administration officials to convey its "serious concerns over the impact such a policy will have on the trucking industry and our ability to keep the nation's supply lines moving."
Spear penned the letter to Sharon Block, acting administrator of the Office of Information and Regulatory Affairs – the White House office responsible for reviewing the draft Emergency Temporary Standard (ETS) before it can go into effect.
Spear asked that truck drivers employed by mandate-affected companies be exempt from the ETS, like Canada has done in its national vaccine mandate, and "deferring coverage of truck drivers to the traditional regulating agency with transportation expertise rather than OSHA."
The Canadian government this summer announced plans to require COVID-19 vaccinations for its transportation sector but did not include the trucking industry.
Spear also sought assurance that fleets holding federal contracts would not be subject to overlapping, contradictory requirements. "Federal contractors that implement the vaccine mandate required in Executive Order 14042 should not have to comply with a second set of OSHA rules – those that implement the E.O. 14042 mandate should be deemed compliant with the OSHA ETS and ideally vice versa to avoid overlapping and contradictory requirements," he wrote.
Spear also asked for a reasonable implementation deadline of at least 90 days.
There is no timeline for OMB to finish its review, but it's likely to be within the next few weeks. In the meantime, ATA has prepared a toolkit, including frequently asked questions, to help fleets and employees better understand the topic and rulemaking process.
[Related: Small carriers in the catbird seat for growth: Fleet size over the pandemic period]
OOIDA sponsoring 15th Truckers for Troops campaign
From Nov. 8-12, the Owner-Operator Independent Drivers Association will sponsor its 15th Truckers for Troops campaign to raise money for sending care packages to military members serving in combat zones.
Truckers for Troops will also help the Veterans Community Project (VCP), making a difference in the lives of homeless veterans.
During the campaign period, new and renewal OOIDA memberships are discounted to a special price of $35 for a savings of $10 off regular $45 dues.
Ten percent of the amount paid during the campaign week will go toward the Truckers for Troops fund. OOIDA will then match those funds.
Since 2007, OOIDA members have raised more than $500,000 to send packages to troops overseas and for veterans causes in the U.S.
Autocar celebrates 124th anniversary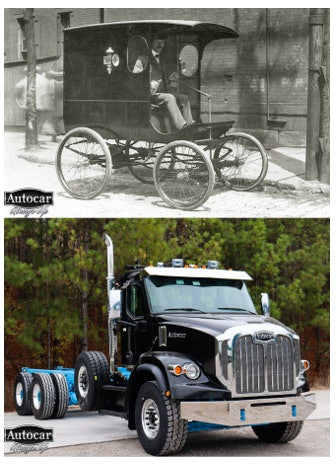 North America's oldest truck brand is celebrating 124 years of the Autocar name. Autocar, LLC, manufacturer of specialized severe-duty, custom-engineered Class 7 and Class 8 vocational trucks, is commemorating the 124th year of the Autocar truck brand.
Headquartered in Birmingham, Alabama, the company manufactures its vocational trucks in Hagerstown, Indiana, and its $120 million, 1-million-square-foot heavy-duty work truck plant in Birmingham.
"As we celebrate 124 years of the iconic Autocar brand, we appreciate those who have played such a big role in the company's success," said Andrew Taitz, chairman of today's Autocar Truck. "The early builders of Autocar-brand trucks were ahead of their time when they built Autocar No. 1 in 1897. That tricycle, powered by a one-cylinder gasoline engine, now resides in the Smithsonian Museum of American History."
From its early beginnings in 1897 to today, Autocar has been innovative in the severe-duty space, the company said. This year, Autocar and Big Truck Rental introduced the first and only national terminal tractor rental program for North American fleets; Autocar introduced its BADASS dump truck; it became the first manufacturer to implement Advanced Driver Assist Systems (ADAS) in refuse trucks; and it introduced an emissions-free, all-electric version of its Autocar ACTT terminal tractor, the E-ACTT.