Mount Airy, North Carolina, is the headquarters of Bottomley Enterprises, a family-owned and -operated grower/shipper/trucking company that specializes in refrigerated hauling. Mitchell Bottomley began growing Christmas trees for harvest back in 1990. Pumpkins soon followed. Today, Bottomley Evergreens and Farms is one of the largest "seasonal commodities" producers/shippers in the United States.
If you live on the East Coast or in the Midwest, and have ever decorated a Christmas tree or carved a pumpkin for Halloween, there's high likelihood it came from Bottomley Farms. Beginning only 10 years ago, Bottomley Enterprises had four trucks. Today, they operate 86 in their fleet, with a company goal of achieving 1,000 trucks. Their fleet consists of new Freightliners and Peterbilts, with polished stainless Wabash trailers.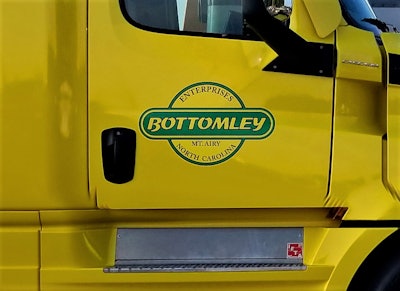 The company primarily uses team drivers and runs coast-to-coast, with an emphasis on family. They not only put their drivers in the best equipment, but insist their drivers are home most every weekend.
When Mitchell Bottomley decided to host a truck show, he stayed true to his roots. Naming it wasn't a problem -- it was to be called the "Mayberry Truck Show."
As some of you will well know, Mount Airy, North Carolina, is the birthplace of Andy Griffith. If you're not familiar with "The Andy Griffith Show," a quick search will yield you plenty of episodes of the classic American sitcom, which ran on CBS from October of 1960 all the way through 1968. Griffith starred as Sheriff Andy Taylor -- the gun-less sheriff -- along with his chief deputy, Barney Fife, played by Don Knotts.
Together, they kept law and order in the fictitious town of Mayberry. Griffith's hometown of Mount Airy directly inspired the show's setting.
The story of that long-ago TV series is not lost on the town, I found immediately in Mount Airy. Nearly every business has "Mayberry" in its name. There are several "Mayberry" tours, including hourly visits to Andy Griffith's boyhood home, which can also be rented out nightly.
Rolling tours are done in vintage Ford Galaxy squad cars for full effect. There is the actual "Wally's Service" station that Hollywood replicated for the TV show. I was told by a local that the real Wally's Service -- it now doubles as a main tourist destination -- was actually Andy Griffith's hangout spot as a kid, where he could often be found drinking soda pop and dreaming about making it out of the town someday and becoming a star in the music business.
Dreams do come true, as Griffith did become a star! He started out as a monologist and scored a top-10 spot on the charts in the early 1950s. Soon after, he made his TV debut in 1955, then a starring role followed in 1957, where he played a sheriff. His biggest break came in 1960 when he earned the starring role as sheriff Andy Taylor in the town of "Mayberry" on the aptly named "Andy Griffith Show."
I met Mitchell Bottomley at this year's Southern Classic Truck Show, which led me to the Mayberry Truck Show. Mitchell Bottomley is an impressive man. He seems to embody all of the wholesomeness you came to know from the characters on the long-ago TV series. He's genuine. When I found out that his Mayberry Truck Show was benefiting Brenner Children's Hospital -- a Level 4 Care Center for children stricken with cancer -- it all fell into place.
Once I walked down Main Street in what I began calling "Mount Mayberry," the TV series and Mitchell sort of galvanized. Mitchell was born and raised there and truly represents a simpler, more honest time. He's soft- spoken, and looks you in the eyes when he speaks to you. Every person I met in the town, from the folks running the mom-and-pop businesses to the local truckers, were of that same character Mitchell embodies. What I further witnessed on the first day of the truck show blew me away. The Bottomley family held an auction to determine the order of the Mayberry Truck Show convoy, which was to take place around sunset during the first night of the events. Each dollar of the auction would also directly benefit the Brenner Children's Hospital.
What happened next was truly astonishing.
Mitchell got up on stage and told the crowd that his Mayberry Truck Show was inspired by the parents of a sick child who was under the loving care of the angels at Brenner Children's Hospital. He choked up talking about it and did his best to continue to address the crowd. He humbly thanked everyone for coming to the show, and said that he genuinely appreciated anything they could contribute to these children's care -- dollars raised were to go to the patient fund there.
As I have said now for decades, truckers deliver this country one load at a time. For me, the trucking community has always represented the best in patriotism and love of country. In true fashion, that community once again rose to the occasion. The truckers, and companies on-hand, in a frenzy, bid on the convoy spots and ended up raising more $350,000! Live. No internet participation. Raising that much in less than 30 minutes with everyday truckers was the highest watermark of any trucking event I have ever attended.
In the face of the up-and-down economy, shortages of various kinds all around, truckers came to the rescue to aid sick and terminally ill children, and the Bottomley family is the wind under those wings – angels' wings on 18 wheels.
For any one of the thousands that attended the inaugural Mayberry Truck Show, it delivered like no other.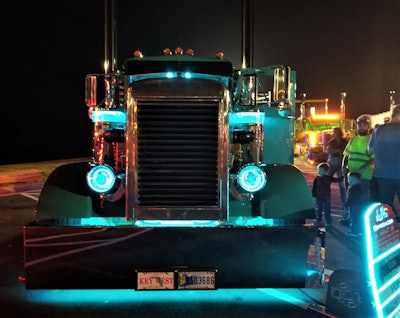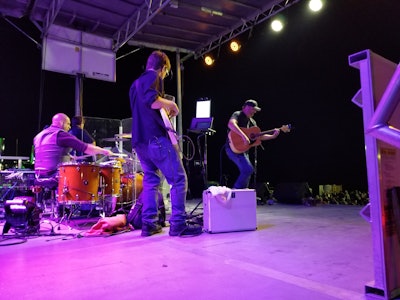 The show featured incredible food vendors, various exhibits and so much more. It closed then with a massive fireworks show by Pyro Shows, one of the country's best pyrotechnics companies.
In short, make sure to mark your calendars for next October! The Mayberry Truck Show should not be missed!