Trucking news and briefs for Wednesday, Oct. 20, 2021:
Joshi one step closer to confirmation as FMCSA boss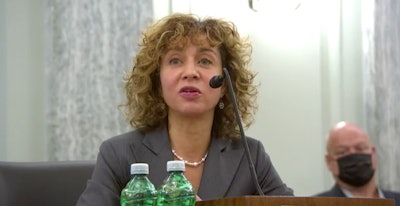 Federal Motor Carrier Safety Administration Deputy Administrator Meera Joshi was confirmed Wednesday morning by the U.S. Senate Committee on Commerce, Science and Transportation to be named Administrator of the agency, moving her one step closer to the agency's top role.
She was approved by the Committee by a 22-6 vote in favor of her confirmation. Joshi will still need to be confirmed by the full Senate before officially being named FMCSA Administrator.
She underwent a confirmation hearing with the Committee a month ago and answered questions about numerous topics, including the COVID hours of service waiver, port congestion and more.
Joshi has served as FMCSA's acting administrator since January. If confirmed by the Senate, she would be the first official Administrator of FMCSA since Ray Martinez, who stepped down from the post in October 2019. The post has since been held by Jim Mullen, Wiley Deck and Joshi, each as acting administrator.
President Joe Biden also announced Tuesday that he is nominating Steve Cliff to be Administrator of the National Highway Traffic Safety Administration. Cliff has served as deputy administrator of the agency since February.
He joined the staff of the California Air Resources Board in 2008 and held various positions until 2014 when he was appointed to the California Department of Transportation as the inaugural Assistant Director for Sustainability. He returned to CARB in 2016 as senior advisor to CARB's board chair. Immediately prior to joining NHTSA, Cliff was deputy executive officer at CARB, where he oversaw development and implementation of regulations for passenger vehicle emissions, medium- and heavy-duty engine emissions and more.
[Related: Intermodal haulers fight off 'system collapse' around ports, with new challenges -- and opportunities]
Diesel prices continue to skyrocket
The U.S.' national average for a gallon of on-highway diesel jumped 8.5 cents during the week ending Oct. 18, rising to $3.671 per gallon, according to the Department of Energy's weekly report.
The most recent increase follows two weeks of significant increases, when prices jumped 7.1 cents and 10.9 cents the previous two weeks. Fuel prices are now up $1.031 since the beginning of 2021 and have increased $1.283 year-over-year.
Last week saw fuel prices increase in all regions across the country, with the most significant increase being seen in California, where prices jumped by 10.5 cents, followed by the Lower Atlantic region, where prices increased by 9.8 cents.
The nation's most expensive diesel can be found in California at $4.53 per gallon, followed by the West Coast less California region at $3.86 per gallon.
The cheapest fuel is in the Gulf Coast region at $3.422 per gallon, followed by the New England region at $3.555 per gallon.
Prices in other regions, according to DOE, are:
Central Atlantic – $3.792
Lower Atlantic – $3.582
Midwest – $3.615
Rocky Mountain – $3.732
ProMiles' numbers during the same week saw fuel prices increase by 8.9 cents, bringing its national average to $3.527 per gallon.
According to ProMiles' Fuel Surcharge Index, the most expensive diesel can be found in California at $4.463 per gallon, and the cheapest can be found in the Gulf Coast region at $3.325 per gallon.
[Related: Live tomorrow, Oct. 21: Owner-operators' 2021 business performance, and outlook]
TA reveals upgrade plans, new travel center designs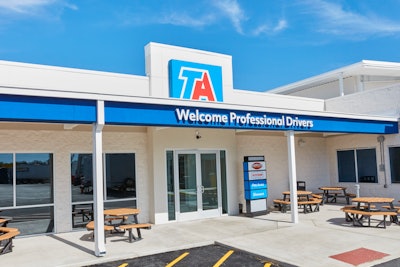 TravelCenters of America unveiled Wednesday its nationwide site upgrade plan and new travel center design concepts at the grand re-opening of the TA in Seymour, Indiana.
The site upgrade and grand re-opening is among the first of more than 100 travel center refresh projects expected to be completed during the next 18 months. TA also announced the launch of "The Kitchen," a new fast-casual dining experience to be rolled out at select locations nationwide.
The Seymour travel center is a remodeled site that showcases TA's new design plans featuring renovated restrooms, upgraded showers, comfortable driver lounges and repaved parking lots. New lighting fixtures, new flooring and paint add cosmetic elements and improved signage and new store flow creates an easy-to-navigate travel center experience.
TA is also introducing "The Kitchen," a dining experience offering Fresh Food Fast, at its Seymour travel center and expects to introduce this concept to select locations across its network. At "The Kitchen," guests can receive freshly prepared food for sit down dining in a fast-casual environment, as well as packaged meals and snacks for grab and go.
TA is focused on providing a food variety with well-balanced and healthy options, regional inspiration and trending flavors that appeal to both professional drivers and motorists. TA is also implementing state-of-the-art hot and cold beverage technology that offers bean-to-cup coffee, iced coffee, frozen beverages and sodas. New standalone heated and refrigerated displays will offer guests a more seamless shopping experience.