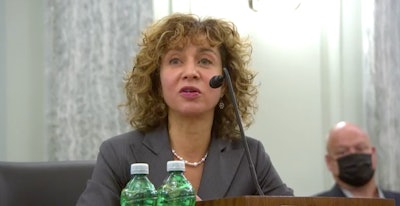 Members of the U.S. Senate Committee on Commerce, Science, and Transportation questioned current Federal Motor Carrier Safety Administration (FMCSA) Deputy Administrator Meera Joshi – President Joe Biden's pick to be the next FMCSA Administrator – on a number of trucking-related topics Wednesday.
A vote was not held Wednesday during the committee hearing. Once a vote is held, if Joshi is confirmed by the committee, she will then need to be confirmed by the full Senate before being named FMCSA Administrator. Joshi was among four DOT nominees at the hearing Wednesday, along with Victoria Marie Baecher Wassmer, nominee for DOT Chief Financial Officer; Mohsin Raza Syed, nominee for DOT's assistant secretary of government affairs; and Amitabha Bose, nominee for Federal Railroad Administrator.
Questions Joshi faced included just how she would handle a number of issues – from supply chain inefficiencies, potential future hours of service waivers, FMCSA's oversight of new entrant motor carriers, port congestion and more.
Sen. Deb Fischer (R-Nebraska) asked Joshi about the "extreme freight backlog" the U.S. is currently experiencing and whether there are other steps FMCSA can take to keep goods moving.
Joshi mentioned the FMCSA's latest COVID hours of service waiver extension, which requires fleets to report to FMCSA their use of the waiver. She said that requirement will provide more detail to FMCSA about how carriers are using the COVID exemptions, which will allow the agency to determine "whether there are longer term and more narrowly tailored solutions that we can put in place, given the freight constraints our nation is currently experiencing."
[Related: Could the COVID hours waiver be flexibility advocates' chance to further disentangle HOS rigidity?]
Joshi also responded to questioning from Fischer about the possibility of increased hours flexibility for livestock haulers. Joshi noted she plans to visit a livestock hauling operation to see how the loading and unloading process works, and will consider the challenges of livestock transport with any regulations.
Sen. Ed Markey (D-Massachusetts), who has previously called on FMCSA to beef up its procedures for certifying new entrant motor carriers and to conduct regular oversight of the trucking industry, said federal safety regulators have been "asleep at the wheel" as highway fatality numbers continue to rise (though early estimates show truck-involved fatalities to have fallen slightly in 2020). Markey asked Joshi how she will work to strengthen FMCSA's oversight of the trucking industry.
She listed several priority items, including the electronic transfer of license data between states (a rulemaking for which is in the works); a provision in a future rulemaking requiring a license downgrade if a positive drug test is submitted to FMCSA's Drug and Alcohol Clearinghouse; and strengthening the agency's new entrant program, including keeping a closer eye on new entrants in the industry.
Sen. Amy Klobuchar (D-Minnesota) wondered about freight bottlenecks, and what kind of investments Congress could make to improve supply chain efficiency, specifically at ports.
Joshi recognized that the biggest pain point for truck drivers at ports is turn time, with longer turn times (calculated from the time a truck enters the port to the time it exits) leading to less money for drivers. She said understanding unpaid detention time, and creating financial incentives for shippers and port operators to decrease that detention time so the financial burden doesn't fall on truck drivers, is the key to increasing throughput at the ports.
[Related: DOT wants feedback on supply chain disruptions]
Sen. Maria Cantwell (D-Washington) also brought up port congestion and what can be done to help alleviate it.
"From the perspective of the trucking industry, I think it's critical that there's transparency and that the financial incentives be aligned," Joshi responded. "Because there are so many moving parts at a port, in order to make the trucking experience of moving freight in and out as efficient as possible, there has to be transparency on appointment systems, flexible hours, and more certainty on when containers need to be dropped off and picked up, as well as aligning the financial incentives. So if the trucking community is bearing the brunt of wait times, and that time is not compensated either because they have to hold containers or because truck drivers have to wait for loading or unloading, then the congestion and the downtime is felt by them, and there is no incentive to disperse that among the whole system."
That, she suggested, needed to change.
During her opening testimony, Joshi praised the work of truck drivers during the pandemic and in response to other issues the country has recently faced.
"Commercial motor vehicles… are not only essential to America's thriving economy, transporting over 70% of the nation's freight as well as our loved ones, they are critical in crisis," she said. "Throughout COVID, the trucking industry has been at the forefront, moving vaccines, testing supplies and oxygen. When the Colonial Pipeline was breached, tank trucks transported gas to stations and, ultimately, into Americans' cars. Most recently, during Hurricane Ida, large trucks brought emergency supplies to our hardest hit regions."
Joshi has served as FMCSA's acting administrator since January.