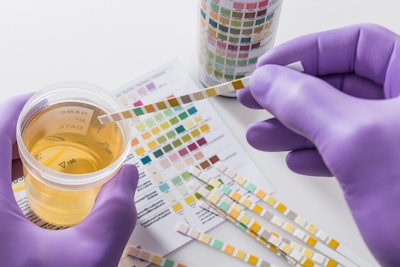 Most of the 52,000 drivers who lost their jobs in 2020 due to drug and alcohol violations have not completed their return-to-work procedure, says a year-end report on the testing database. The numbers back up industry concerns that the Federal Motor Carrier Safety Administration's Drug and Alcohol Clearinghouse is putting a dent in the driver labor pool.
The program took effect Jan. 6, 2020. All trucking companies with operating authority, even with only one truck, are required to register in the clearinghouse and to conduct a yearly query on each driver. The database is used by law enforcement, driver licensing agencies and carriers to check for driver violations.
During this first year of the clearinghouse operation, more than 56,000 violations were recorded, only 1,203 of them alcohol-related.
Of the 51,998 drivers who had at least one violation last year, 45,475 are still unable to drive. Of those, 34,769 have not even begun the return-to-work protocol of substance abuse counseling and testing negative for drugs and alcohol. Only 6,513 violators have completed it and are cleared to drive.
The 45,475 violators who aren't cleared for commercial driving represent 1.3% of an estimated 3.6 million truck drivers in the United States, or 3.1% of the for-hire trucking employment total, almost 1.5 million, which includes non-driving jobs.
The impact of the clearinghouse has "culled another 40,000 or so drivers directly from the market, and probably thousands more have exited because they think they might not pass a drug test," said analyst Avery Vise, discussing driver pool worries during a recent FTR webinar on the 2021 outlook.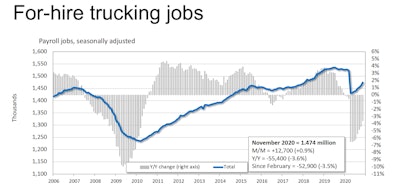 The heightened sharing of drug screening status has worsened fleets' struggles with driver recruiting, said Jeremy Reymer, founder and CEO of driver applicant tracking system DriverReach. "On the flip side, we haven't seen a lot of new drivers come in to the industry to replace them," he said. The clearinghouse effect, on top of the reduced driver count due to COVID cutbacks, "has magnified the disparity" of new drivers coming into the industry, he said.
Small-fleet drug testing has produced positives in about 1% of screens in recent years, said David Owen, president of the National Association of Small Trucking Companies. That data, comparable to industrywide rates, comes from 5,000 NASTC members that use the association's testing service.
Because carriers are required to perform a clearinghouse query on all drivers annually, the initial deadline for testing all drivers was Jan. 5, which closed the system's first 12-month period of operation. Carriers face a fine of up to $2,500 per offense if non-compliance surfaces in a compliance review or safety audit.
The required check is meant to ensure that drivers haven't failed a drug or alcohol test, such as a pre-employment screen when applying for a job at another fleet, only to remain behind the wheel and employed at another fleet.
Enactment of the clearinghouse "did not change the federal drug and alcohol testing regulations or the required percentage of drivers tested," said Duane DeBruyne, FMCSA spokesman. Also, "before the establishment of the clearinghouse, the identical number of drivers would still have been prohibited from operating. What's different now is the degree of difficulty for prohibited drivers to circumvent the system."
FMCSA offers answers to dozens of frequently asked questions about the clearinghouse.
-- James Jaillet contributed to this report