Trucking news and briefs for Thursday, Oct. 7, 2021:
Speeding, seat belt usage top truckers' violations during safety blitz
More than 28,000 commercial vehicles were pulled over during the Commercial Vehicle Safety Alliance's annual Operation Safe Driver Week, which was held July 11-17 across North America. Law enforcement also stopped nearly 18,000 passenger vehicles during the blitz that aims to prevent dangerous driving behaviors. Speeding was the focus of this year's event.
In the U.S., law enforcement personnel issued a total of 8,438 warnings and 12,264 citations, made up of 4,420 warnings and 3,158 citations to commercial motor vehicle drivers, and 4,018 warnings and 9,106 citations to passenger vehicle drivers.
Among citations written to commercial vehicle drivers, speeding topped the list with 1,690 citations and 2,549 warnings issued. Failure to use a seat belt was the next highest violation with 1,225 citations and 954 warnings. Other top violations for truck drivers included failure to obey traffic control device, texting/using a handheld phone, improper lane change and following too closely.
CVSA also lumped a variety of violations into one pool labeled state/local driver violations, which could include vehicle-related observations an officer may notice during a traffic stop, such as equipment violations, expired license plate tags, inoperative lamps and more. Commercial vehicle drivers received 6,631 warnings and 4,007 citations for these various violations.
Passenger vehicle drivers were also cited most for speeding and seat belt usage with 9,349 and 1,355 citations issued, respectively. Distracted driving/using a handheld phone was the third highest violation for four-wheelers with 573 citations issued.
In addition to the one-week enforcement blitz, the Federal Motor Carrier Safety Administration also participated by conducting a seven-week investigative event targeting trucking companies with a history of crashes and unsafe driving behavior.
FMCSA's event ran from June 7 to July 16, with participation from all its divisions. The agency prioritized moderate-risk and high-risk carriers for remote on-site and off-site investigations.
FMCSA field staff completed 90 high-risk and 201 moderate-risk carrier investigations, resulting in 64 Conditional ratings and 30 Unsatisfactory ratings. Three driver notices of claim (fines) are planned, 21 carriers entered the denial of access process, 10 out-of-service orders were issued, and one pattern of safety violations case is under review. Out of 291 investigations, nine resulted in enforcement for the violation of 392.2 – unsafe driving.
[Related: The 14-state truck speed trap: Where enforcement is most prominent]
Ryder opens five new used truck sales locations
Ryder System this week announced the grand openings of five new used vehicle sales centers in Salt Lake City, Utah; Oklahoma City, Oklahoma; Orlando, Florida; Syracuse, New York; and Allentown, Pennsylvania.
Ryder used vehicles consist of day cab tractors, sleepers, refrigeration equipment, box trucks, sprinter vans, cargo vans, and trailers. Ryder has staff on-site to consult with potential buyers on the vehicle that is best suited for their business needs, as well as provide a complete vehicle maintenance history report. Customers also benefit from discounted pricing, extended warranty, and Ryder's best-in-class maintenance plans to keep payments low and maximize uptime, the company said.
Trucker named Highway Angel for helping elderly man who crashed car
The Truckload Carriers Association has named truck driver Timothy Sikes, from Melvin, Texas, a Highway Angel for stopping to help an elderly man who lost control of his vehicle and rolled into a ditch.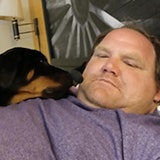 Sikes was at a truck stop near Baytown, Texas, early one morning in April. He had just finished doing his pre-trip inspection and was taking his dog, Diesel, for a walk when he heard the sound of screeching tires.
"I looked around and saw a car going off the road," he said. "It went into the ditch and rolled."
He called 911 and rushed over to check on the driver, an elderly man in his 80s. He was trapped in his car. "He told me he had fallen asleep at the wheel," Sikes said.
Although Sikes wasn't able to open the door of the damaged vehicle, he talked with the driver to keep him calm until first responders arrived just a few minutes later. The driver appeared to have minor injuries.
Sikes drove for PAM Transport at the time and now drives for Bay & Bay in Eagan, Minnesota.
For his willingness to assist, TCA has presented him with a certificate, patch, lapel pin, and truck decals. Both his previous and current employer have received a letter acknowledging their driver as a Highway Angel.
[Related: Highway Angel of the Year Royford Burris]