Trucking news and briefs for Friday, Oct. 8, 2021:
$24.4 million in drugs, 142 illegal migrants stopped at border
U.S. Customs and Border Patrol agents were busy late last month. In one instance, agents arrested a truck driver and seized an estimated $24.4 million in drugs. In a separate incident, agents discovered 142 migrants attempting to enter the country illegally inside a tractor-trailer.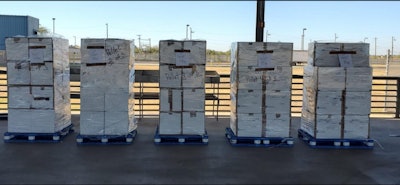 On Thursday, Sept. 23, border agents at the Eagle Pass Camino Real Cargo Facility in Eagle Pass, Texas, found 1,221 lbs. of methamphetamine in the walls of an empty trailer. The drugs had an estimated street value of about $24.4 million.
Border Patrol officers inspected a 2010 Freightliner tractor hauling an empty box trailer arriving from Mexico. The truck was referred for a secondary inspection by a specially trained canine unit, then a non-intrusive imaging system, and finally a physical inspection.
CBP seized the drugs, truck, and trailer.
A week prior, U.S. Border Patrol Agents discovered 142 migrants inside a tractor-trailer working in tandem with an SUV in New Mexico on Friday, Sept. 17.
The migrants were discovered near Anthony, New Mexico. Agents from the Ysleta Border Patrol Station were notified of a possible human smuggling situation after agents witnessed two vehicles pull over with a tractor-trailer along a frontage road.
Agents discovered 11 migrants in the first car, which they inspected. Agents then checked on the second car, where they found two U.S. citizens.
The truck driver allowed agents to search the trailer, where they discovered 131 undocumented migrants. CBP said this is the largest group of migrants found inside of a tractor-trailer in recent memory, apart from those discovered directly at a border checkpoint.
New TA Express opens in Texas
TravelCenters of America has opened a new TA Express travel center in Almeda, Texas, on State Highway 288.
The new location is a franchised site, formerly known as Swift Mart, and expands TA's total nationwide network of travel centers to 276, including 43 franchised locations.
TA Express Almeda offers 65 truck parking spaces, Subway and Gourmet Taco Kitchen restaurants, four diesel lanes, three showers and more.
CVSA names new leaders
The Commercial Vehicle Safety Alliance of enforcement and industry representatives transitioned to new leadership for 2021-'22. This effective date of October for the transition aligns the transition to new leadership with the fiscal year, which starts on Oct. 1 every year, the alliance said.
Captain John Broers, with the South Dakota Highway Patrol, is the new president of the Alliance, while Major Chris Nordloh, with the Texas Department of Public Safety will serve as vice president.
Heading up Associate Members, comprised in part of CVSA's member trucking companies, are Schneider's Andrea Sequin as President, with Derek Barrs, from HNTB, as vice president.
This year's leadership transition was unique for the alliance, CVSA said. In June 2020, due to the COVID-19 pandemic, the CVSA Board of Directors voted to cancel the 2020 annual conference. According to the alliance's bylaws, if the annual conference is canceled, leadership officers and committee and program members continue in their respective positions until the next annual conference, held this year in August and September. At that conference, a delayed Secretary vote was held as well, and Colonel Russ Christoferson, with the Montana Department of Transportation, was elected and will serve as secretary, effective this month.
[Related: Automated 'e-Inspections' demonstrated at CVSA annual conference]