Trucking news and briefs for Tuesday, Oct. 5, 2021:
Goodyear seeking Highway Hero nominations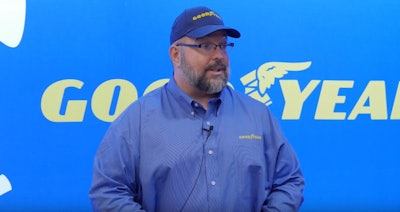 Goodyear Tire & Rubber Company is opening a call for its 2020-2021 Highway Hero award, which goes to a truck driver who has acted selflessly for the good of others while on the job.
The nomination period is open through Dec. 31. Nominations can be submitted here by telling the story of a driver deserving of the honor. Nominees must be a full-time truck driver from the U.S. or Canada, and the incident they acted upon must have occurred in the U.S. or Canada while the driver was on the job or on the way to or from work in his or her truck. Qualifying incidents must have happened between March 1, 2020, and Dec. 21, 2021.
The grand prize winner will be announced in early 2022 and will receive a package that includes a cash prize and a trip to Orlando for the Technology & Maintenance Council Annual Meeting on March 8-11, 2022. Two finalists will also receive a prize package.
While the program was on hiatus due to COVID-19, the 2020-2021 Goodyear Highway Hero Award marks the 37th year Goodyear has celebrated truck drivers with the award. Past winners include a driver who ripped the back door from a burning car to save two passengers and a driver who dove into a pond to pull a child from a submerged car.
[Related: Royford Burris named Highway Angel of the Year]
New group focuses on boosting minority women in trucking
As of June of this year, the National Minority Women Association in Transportation, Inc. (NMWAIT) launched a member-based association with headquarters in Columbia, Maryland.
NMWAIT is a membership-based, minority women-owned organization with the mission to increase the visibility, capacity, and business profitability of professional minority women within the transportation sector.
NMWAIT will engage in a range of activities to ensure the success of innovative policy solutions to address issues facing minority women. To ensure inclusion and diversity in transportation, NMWAIT aims to provide educational activities designed to create a national environment in which reforms can succeed.
Cofounders of NMWAIT are Ashley Watson, President, and Sharesse Jackson, Vice President. Watson and Jackson move forward with the support of a Board of Directors and membership as it grows, providing a space for all to network and stay abreast of current legislation that affects the growth and safety of women in the transportation industry.
[Related: Scenes from the first-annual SHE Trucking Expo -- big-tent appreciation, education in Chattanooga]
Schedule set for U.S. Capitol Christmas Tree tour
A specially wrapped Kenworth T680 Next Generation model will transport the 2021 U.S. Capitol Christmas Tree from California to Washington, D.C., with a full slate of community celebrations during the journey.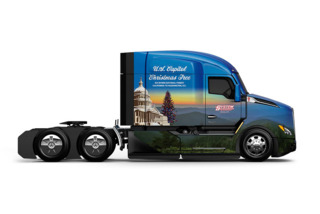 System Transport will use a Kenworth T680 Next Gen to haul the U.S. Capitol Christmas Tree from California to Washington, D.C.This year's U.S. Capitol Christmas Tree – an 84-foot tall White Fir – is scheduled to be harvested Oct. 25 from the Six Rivers National Forest in California. The tour theme is "Six Rivers, Many Peoples, One Tree."
System Transport will use its new Kenworth T680 Next Gen equipped with a 76-inch mid-roof sleeper to transport the 2021 U.S. Capitol Christmas Tree on its 3,300-mile route.
The scheduled tour stops along the route include:
Oct. 29: Crescent City and Eureka, California
Oct. 30: Willow Creek and Fortuna, California
Oct. 31: Ukiah, California
Nov. 1: Sausalito and Vallejo, California
Nov. 2: Dixon, California
Nov. 3: Sacramento and Sonora, California
Nov. 4: Mariposa, California
Nov. 6: Pasadena and Redlands, California
Nov. 8: Holbrook, Arizona
Nov. 9: Phoenix, Arizona
Nov. 11: Albuquerque, New Mexico
Nov. 13: Fayetteville, Arkansas, and Springfield, Missouri
Nov. 16: Williamsport, Maryland
Nov. 19: Delivery to West Lawn, U.S. Capitol Building (Washington, D.C.)
Cheema acquires 3PL
Cheema Logistics, a subsidiary of asset-based carrier Cheema Freightlines, on Tuesday acquired the assets and operations of Missoula, Montana-based third-party logistics company Walker Logistics. Terms of this transaction were not disclosed.
Cheema Freightlines and Cheema Logistics Founder and CEO Harman Cheema said he expects the acquisition to further bolster his company's footprint in the logistics market. Walker Logistics, Cheema said, has a stellar reputation for service with its longtime customers, as well as a large network of trusted motor carriers, brokering loads in a variety of modes including truckload, less-than-truckload and flatbed.
Michael Walker, founder and president of Walker Logistics, noted finding a buyer who shared the same customer focus and service excellence was an important factor in selecting the right acquisition partner.
Three women named finalists for Influential Woman in Trucking award
The Women in Trucking Association and Freightliner Trucks announced Tuesday three finalists for the 2021 Influential Woman in Trucking award. This is the 11th year for the award, which was developed in 2010 as a way to honor female leaders and to attract and advance women in the trucking industry.
The award highlights the achievements of female role models and trailblazers in the trucking industry.
The 2021 Influential Woman in Trucking award finalists are:
Eileen Dabrowski, Director of Learning, Development and Marketing, ReedTMS Logistics
Lily Ley, Vice President and Chief Information Officer, Paccar
Amanda Schuier, Chief Operating Officer, Quality Transport Company
Dabrowski has been in the transportation/logistics industry since 2016 and oversees the development and facilitation of all company-wide training programs, new employee onboarding, leadership development, marketing projects/ReedTMS brand integrity, and event planning for the company. Ley is an experienced technology and IT executive, mentor to aspiring students, and passionate advocate for more inclusive workplaces for women. In her role at Paccar, she leads the Information Technology (IT) division and the modernization of IT. Schuier is a fourth generation trucking industry member, and the first female in her family to hold such a role. She has been involved in trucking since 2006. Her daily duties at Quality include oversight of sales, dispatch, driver relations, safety programs and new technology initiatives for the company. She is passionate about mentoring other young women as they explore careers in transportation.