Updated October 4, 2021, as part of Overdrive's 60th-anniversary series of lookbacks at the magazine's history, in addition to that of trucking itself. Read more of those weekly installments published throughout year 2021 via this link.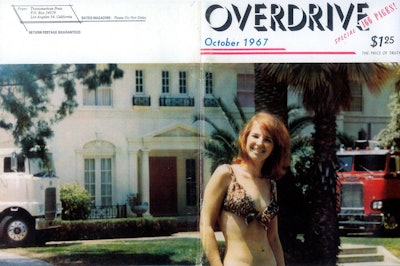 Some of Overdrive's oldest readers might recall the Overdrive Roadmansion in Los Angeles. In 2014, retired driver Bill Nickel, then 74, was one of them. He contacted the magazine to see if editors had any information on the house, which provided lodging and amenities to drivers.
Nickel recalled staying there, he believed at the time, in 1967. He had a dedicated route with Kansas-based Tip Top Dairy Products running between Kansas and Los Angeles. He was lacking a return load one day, had read about the Roadmansion in Overdrive, and made a call.
"They sent a van down, picked up me and my partner at the truck stop in LA," Nickel said. They were given a room, told they could swim at the pool, and that the bar would open in an hour. "Then after we had a couple of drinks, and ate, there actually was a movie theater on the premises."
After the movie, they returned to the pool for snacks and drinks. The next morning included breakfast and a ride back to the truck stop.
For the shuttles, lodging and everything else, Nickel recalls the cost as about $6 or $8 a person.
Mike Parkhurst, founder and editor of Overdrive until its acquisition in 1986 by the current owner, Randall-Reilly, offered memories of the venture in 2014 before his passing later that same year. He converted what was formerly the Los Angeles home of actor Robert Stack (known for the TV series "The Untouchables") into a hotel for truckers in 1967. Parkhurst ran it for more than two years before it was torn down. He provided background in an email:
"Hippies had been living in it and it was filthy, with open food cans all over, filth beyond description," Parkhurst wrote. "There was so much trash in the house and grounds that it cost $2,000 just to haul it away."
His massive renovation of the home, guest house and swimming pool, some of which is evident in the reproduced Overdrive pages below, included a new kitchen, "a Tahitian bar, a game room (pool table, ping pong table, piano), a library and a dining room."
"There was a big huge auditorium-like room I made into a movie theatre. We showed 16mm movies that we rented and showed on a big screen," Parkhurst wrote. "The first chef used to be the private chef for Elizabeth Taylor and Richard Burton. After about 4 months it was obvious he was an embezzler because even the biggest trucker seldom eats 8 pounds of prime rib or steak each day, so I fired him and the next chef [Walter Stewart], a neat, friendly guy, had been the main chef for Lyndon Johnson at his Texas ranch."
Truckers dined family-style at tables with "linen napkins and tablecloths." Wine was served with meals.
The daily price of only $11 (or $13 for teams) included lodging, food, bar, and "us picking up truckers from the three truck stops on Alameda Avenue.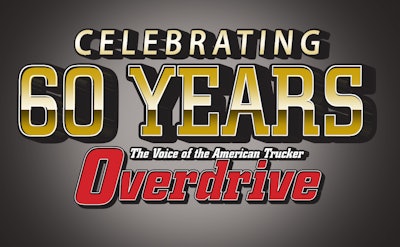 "One of former heavyweight champion Sonny Liston's fights (against slick boxer Billy Joiner) was in L.A. and so I let Sonny stay (for free) at the Roadmansion for 3 or 4 weeks as he trained. I had already secured him for my movie Moonfire, so I figured it would be good to have him at the Roadmansion.
"I don't remember exactly how much my Roadmansion cost me but it was a monthly loss of about $8,000 for two years. It was never filled. Sometimes there might be only three or four truckers, sometimes 15, but never, ever did the capacity of about 25 guests happen. I didn't care. It was not created to make money, only give truckers a nice, upscale place to stay."
Several Overdrive stories in late 1967 featured the Roadmansion. Here are some excerpts: