Go way back in Overdrive's 60-year history and you'll find more than a little dabbling in the bright lights of Hollywood and the country music scene of the '60s and '70s. It didn't hurt that the Overdrive office was in the entertainment mecca of the Los Angeles area, but what really drove the connections was Overdrive's founder and editor, former independent trucker Mike Parkhurst.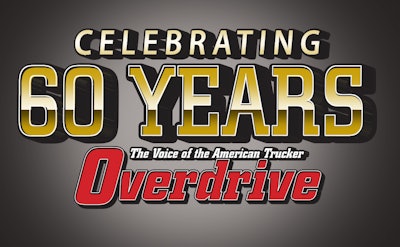 Many of those associated with the magazine's early years have passed on, including Parkhurst, who died in 2014. One of the key players during about half of Parkhurst's 25-year ownership of Overdrive was Roger Galloway. Now 77, Galloway is communications director for Mohave County, Arizona.
"My Overdrive days were from 1970-'86, with the exception of 1979-'81, when I produced national TV specials," said Galloway. Some of them focused on country music stars, such as "Great Ladies of Country" and "Tribute to Kitty Wells." They were not tied to Overdrive, though Galloway's first TV special, "Truckin' in Nashville," was produced in 1979 outside a Nashville, Tennessee, truck stop.
It included performances from many of country music's leading names. The audience was filled with truckers who had come to Nashville for a convention of the Independent Truckers Association, a trade group Parkhurst had founded. Below is a brief clip showing Parkhurst and his wife, the actress Lori Michaels, applauding as Hank Williams, Jr., concludes one of his father's biggest hits, "Your Cheatin' Heart," at the event.
Parkhurst sold Overdrive to what is now Randall-Reilly in 1986. "I remained close friends with Mike Parkhurst until his demise," Galloway said.
Through his early work with Overdrive, Galloway brought many celebrities to the attention of readers. He interviewed singers such as Glen Campbell, Waylon Jennings, Mike Nesmith, Marty Robbins and Freddie Hart. Actors he interviewed included trucking-movie stars Dennis Weaver, from "Duel," and Jan Michael Vincent, from "White Line Fever."
Most notable of all the movie projects attempted by Parkhurst before and after Overdrive's sale was the feature-length trucking drama "Moonfire." Written, directed and produced by Parkhurst, it was released in 1972, when trucking loomed large in the nation's pop culture.
Another was a short 1965 trucking documentary that Overdrive financed, "Big Rig," not to be confused with another documentary of the same name released in 2007. A 1966 Overdrive cover highlighted lutist Norman Andre, the artist who provided the theme song, "Big Rig Man," for the older "Big Rig" movie.
And after selling Overdrive, Parkhurst produced "Trucker Wars: The True Story of the Three Trucker Shutdowns," based largely on Overdrive's role in those activities. The DVD is available on eBay.
Decades after the "Moonfire" debut, Overdrive's then-Senior Editor Andy Duncan described it: "Hard to follow and hard to forget, it's about a lost space capsule, a gang of Mexican bandits and a fortune hidden inside a load of lettuce."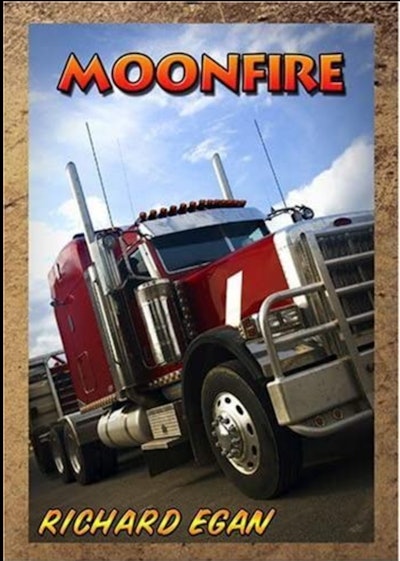 "Moonfire" is often omitted from trucker movie lists. Even Parkhurst himself, on the film buff website IMDB, wrote, "I would rate this film as 'fair,' but not bad, especially considering the low budget" of $300,000.
Nevertheless, the production has claims to fame via its cast and music.
Richard Egan gets top billing in the movie. "Egan, who died in 1987, was a leading man best remembered today for getting top billing in Elvis Presley's first movie," wrote Duncan. "His top billing in 'Moonfire' may be equally unfair."
That's because Charles Napier, in a strange turn midway in production (explained in the podcast below), ended up as the de facto lead, as Galloway and Duncan see it. Napier went on to get small roles in films directed by Jonathan Demme, including "The Silence of the Lambs." He also learned to drive a truck for "Moonfire" and spent a few years as a roving correspondent for Overdrive. Napier died in 2011.
Also appearing in the movie is Sonny Liston, a former heavyweight boxing champ. He died in 1970, shortly after the movie's filming.
The movie's opening credits roll to "Wheel of Life," by Marty Robbins, one of the biggest country music stars of that time. The song wasn't formally released because of Robbins' recording contract. So for years it was largely unavailable apart from the movie, which itself was mostly out of circulation until appearing on DVD decades after its release. "Moonfire" now is available on Youtube and can be streamed free for Amazon Prime members.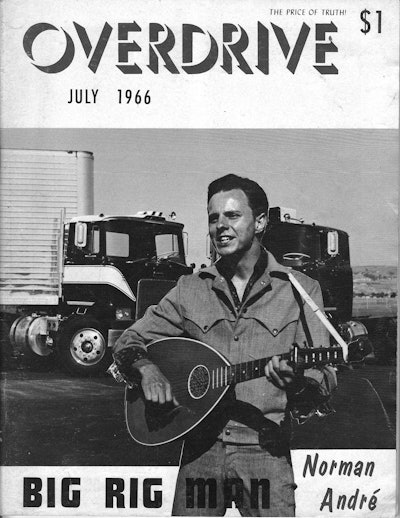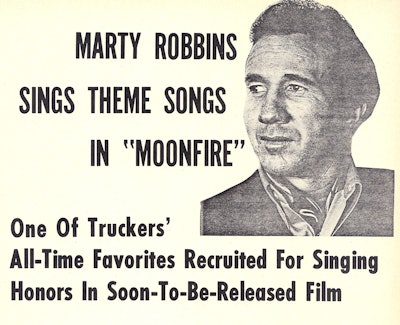 For more about "Moonfire," Parkhurst, Napier, Robbins and other details from Overdrive's early years, listen in on to my interview with Galloway in this special edition of Overdrive Radio: