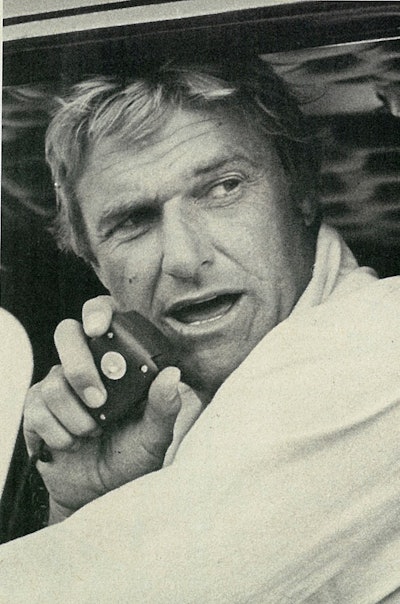 Character actor and former Overdrive editor Charles Napier passed away at a hospital in Bakersfield, Calif., on Wednesday, Oct. 5. Napier's perhaps best known for his role as one of the Good Old Boys in the Blues Brothers film as well as an intelligence officer in the Sylvester Stallone vehicle Rambo: First Blood Part II. But he served as an Overdrive editor at a time when the magazine's popularity and profile among the nation's owner-operators had never been higher. For that — at least on this end of the national cultural spectrum — he will always be remembered fondly.
Napier was 75, and reportedly collapsed in his Bakerfield home before being transferred to a local hospital, where he passed away.
Born in the mid-late 1930s in a Kentucky small town, Napier (pictured) was in his mid-30s when he worked as a roving correspondent for Overdrive, a job he'd taken after appearing in the 1970 flick Moonfire, a trucking movie produced by then Overdrive editor and publisher Michael Parkhurst. My Channel 19 predecessor, Andy Duncan, wrote a comprehensive review of that flick when it became available on DVD in the year 2008.
Napier also played a bigamist trucker in the Jonathan Demme film Citizens Band, which Duncan called "the best movie to emerge from that short-lived 1970s craze." And he was featured in several episodes of the trucking-themed B.J. and the Bear television series, among much other television and film work. This site has a full filmography.
Roger Ebert called him "that character actor with a smile like Jaws," and he built a career on his tough-guy / menacing-authority-figure roles. Just this year, too, in January Napier released a memoir, Square Jaw and Big Heart, available via Amazon in print and Kindle editions.
For more about Napier, read Lucinda Coulter's Overdrive Retro piece, featuring a picture of Napier with singer Red Simpson taken during an Overdrive radio hour event in 1971, when Simpson's "I'm a Truck" was a top-ten hit.