Heavy-duty engine coolants and additives perform a tough job in a tough environment, so consistently having quality protection should be a no-brainer. The evolution of diesel engines have led to an abundance of different types of products, with many of them required for specific types and designs of power units.
In addition to protecting the engine from overheating and helping it perform its best, coolants and additives also help prevent the cooling system from degrading in various other ways. Since water and glycol – the basic chemical component of engine coolants – are corrosive, they will erode and destroy vital cooling system components over time. That's why coolant makers add corrosion inhibitors such as inorganic and/or organic salts and other chemicals.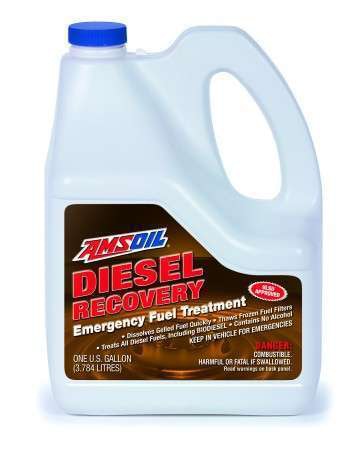 Amsoil Diesel Recovery is touted as a fuel additive that is formulated to dissolve wax crystals that might form when diesel fuel passes its cloud point. Diesel Recovery is now available in larger container sizes. The recovery product is designed to liquefy gelled fuel and thaw frozen fuel filters by dissolving wax crystals that might form when diesel fuel passes its cloud point.
Bar's Leaks Cooling System Repair is formulated to stop coolant leaks and antifreeze loss, prevent overheating and correct other cooling system problems. A dual-cavity bottle contains two formulas: One side includes a blend of carbon fiber sealer, leak-sealing liquid and stop leak treatment made to stop and prevent antifreeze loss, while the other side adds system protection in the form of water pump lubricant, corrosion inhibitors and heat transfer agents.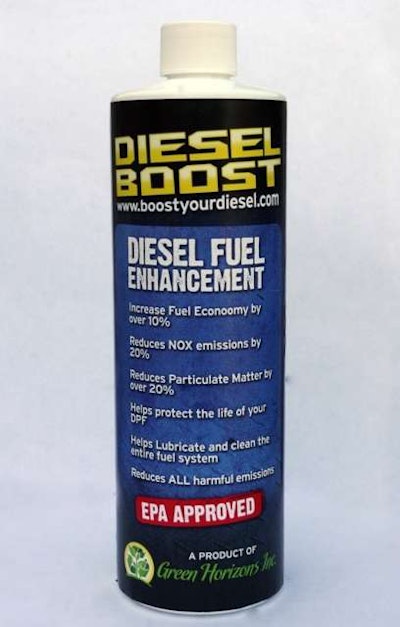 Diesel Boost diesel fuel additive is designed to help stabilize and help improve lubrication of ULSD fuels. The additive also is formulated to help guard against corrosion and to be free of all metals, ash and alcohol. In addition to cleaning the diesel fuel system and tank, the fuel additive also is designed to help increase Btu and cetane levels.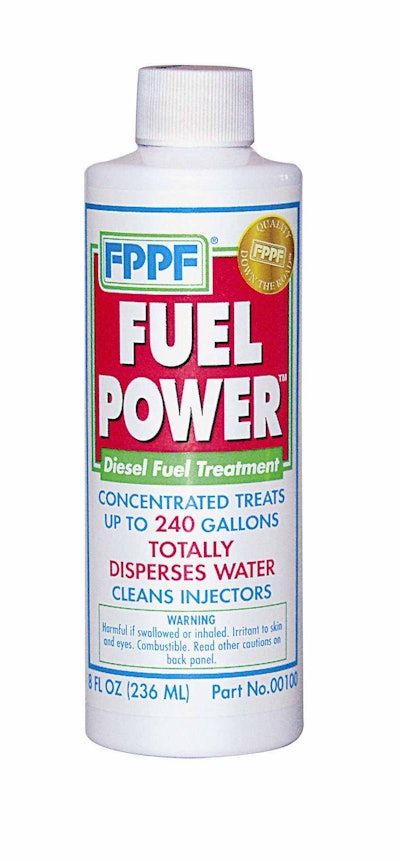 FPPF Chemical Co. Fuel Power is a highly concentrated diesel fuel treatment that is formulated to disperse water, clean precombustion deposits from diesel fuel systems, remove carbon deposits in the combustion area and help improve emissions control. The product also is designed to control waxing and gelling, lubricate the fuel system and help prevent acid formation.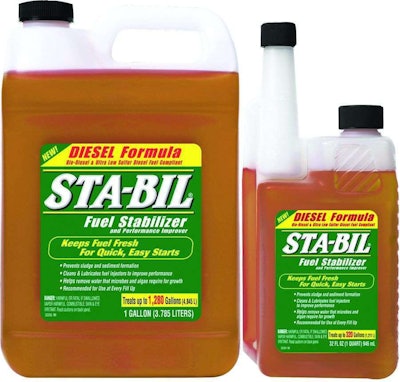 Gold Eagle's Sta-Bil Diesel Formula is designed to help prevent sludge and sediment from forming in the fuel and fuel system, help protect against corrosion, help reduce diesel oxidation caused by thermal breakdown and help remove water from diesel fuel. The diesel formula also contains extra lubricity and detergents that are formulated to help protect and clean the fuel system.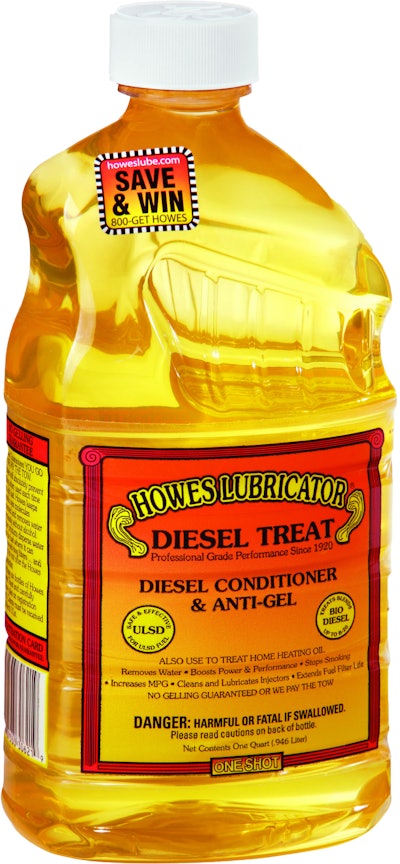 Howes Lubricator Diesel Treat and Anti-Gel is designed for ultra-low-sulfur fuel and to treat 320 gallons of diesel with a half-gallon bottle. The diesel treat also is formulated to help clean and lubricate the fuel injection system, help improve combustion and power and help prevent gelling in cold temperatures.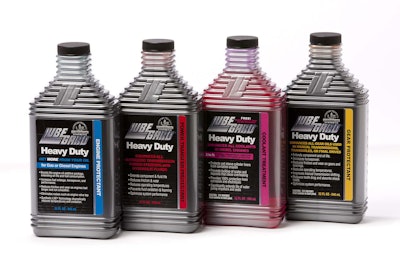 Lubeguard's Engine Protectant, Gear Protectant and Power Transfer Protectant products all are formulated with LXE technology designed to join negative polarity and positive polarity, helping to create a bond designed to offer lubrication and anti-wear protection for post-warranty engines.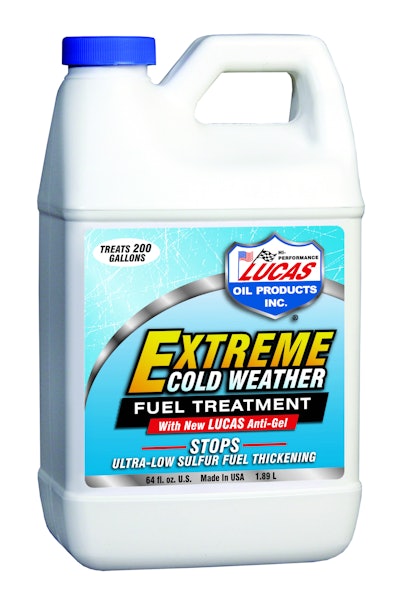 Lucas Oil's Extreme Cold Temperature Fuel Treatment with Lucas Anti-Gel was developed to eliminate fuel gelling problems in all types of diesel fuels, including biodiesel. The treatment, which is formulated to help prevent fuel thickening and adds lubricity, comes in quart and half-gallon containers; a half-gallon treats 250 gallons of fuel.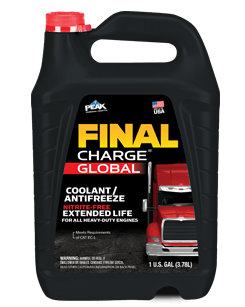 Peak Final Charge Global Extended Life Coolants are formulated to be free of phosphates, silicates, nitrites and borates, and feature a patented Organic Acid Technology (OAT) formula to help deliver total cooling system protection for 1,000,000 miles of on-road use (8 years of 20,000 hours or off-highway use) without the use of supplemental coolant additives.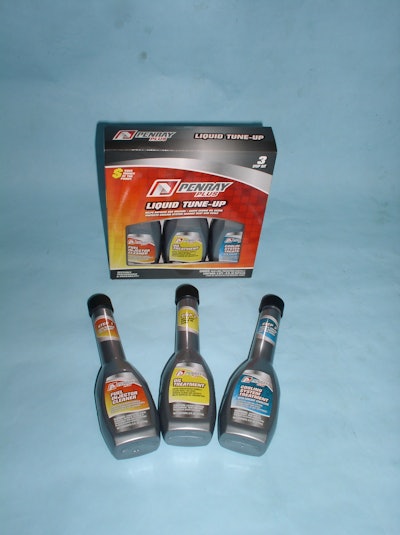 Penray Plus Liquid Tune-Up is a package of proprietary chemicals designed to work in harmony to restore engines to optimal performance and efficiency. The package contains specially-blended chemicals and is designed as a three-step process to fortify the fuel, lubricating oil and engine coolant.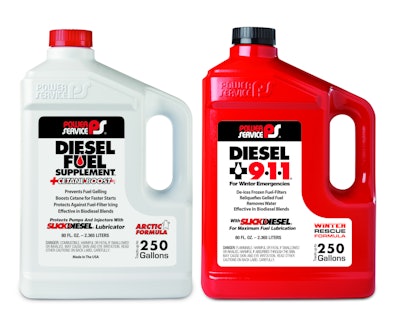 Power Service Products' Diesel Fuel Supplement and Cetane Boost is formulated to help prevent fuel from gelling and to keep equipment running through cold temperatures. The company's Diesel 911 is designed to reliquefy gelled fuel, de-ice frozen fuel filters and remove water from the fuel system.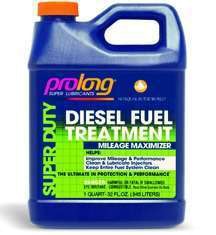 Prolong Super Lubricants Super Duty Diesel Fuel Treatment, for use in long-haul applications, is designed to improve fuel mileage and engine performance. The treatment is formulated with engine detergents that help remove gum, deposits and sludge buildup from injectors and fuel systems. The treatment also helps protect against corrosion and premature wear.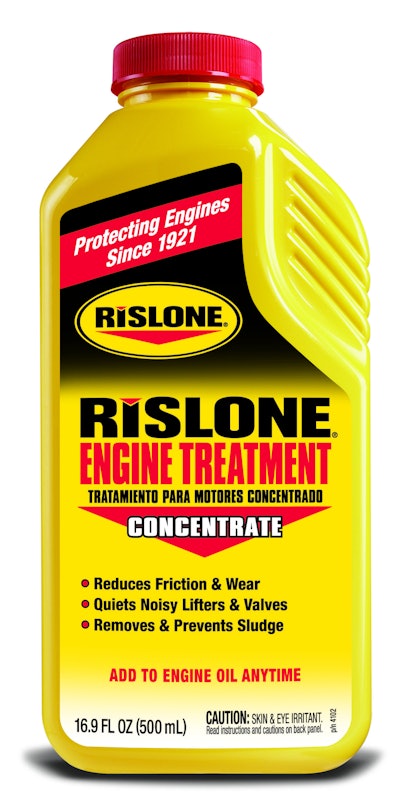 Rislone Engine Treatment Concentrate is a penetrating lubrication oil combined with protective engine additives and cleaning agents designed to penetrate into valve seats, bearing surfaces, piston rings and ring grooves to remove sludge and varnish; these deposits are dissolved gradually and held harmless in suspension until they are trapped in the filter or removed with the next oil change.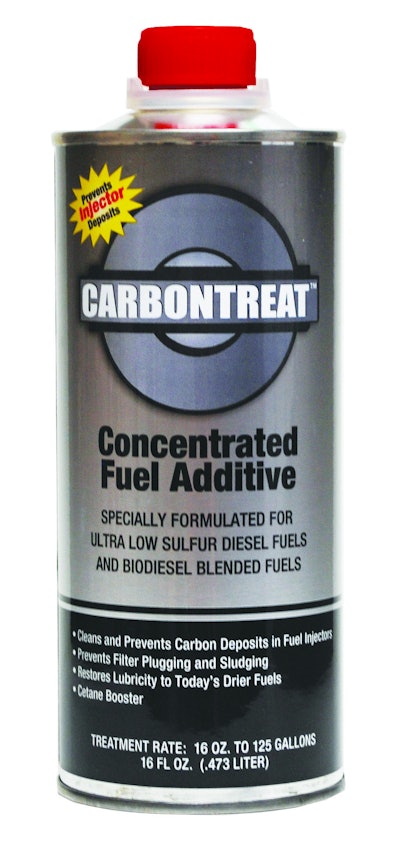 Schaeffer Oil's CarbonTreat Premium Formula additive is formulated to recover lost power, clean high-pressure fuel injectors and prevent filter plugging and sludging. CarbonTreat Winter offers a combination of wax modifier and wax anti-settling agents to help improve low temperature operations. CarbonTreat Extra Cetane provides the same protection as CarbonTreat Winter and includes additional amounts of cetane for low-cetane-based fuels.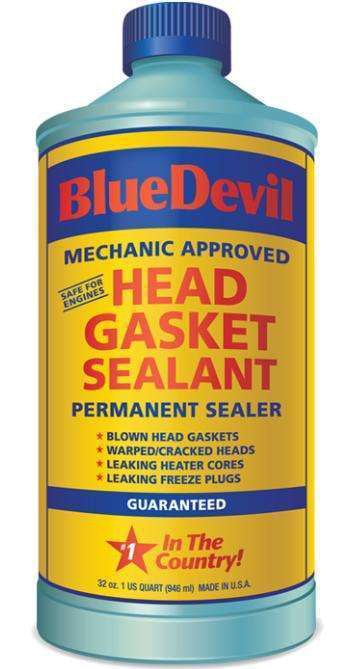 Blue Devil Head Gasket Sealant is formulated to seal cooling system leaks to help prevent blown head gaskets, warped and cracked heads, heater core damage and freezer plugs. The formula is nonclogging.