On October 21, 2021, at 5 p.m. Eastern time, Overdrive will be live here for a presentation from and discussions with ATBS President Todd Amen to deliver the business services firm's charting of owner-operator revenue, costs and bedrock income over the course of the year thus far. The program, part of Overdrive's Partners in Business series coproduced with ATBS, will offer plenty in the way of actionable intelligence and data against which to benchmark your own operation and assess your performance.
Interested in participating in the discussion? Put this event on your calendar to tune in live. Via the following link, you can find a registration page where you can register to receive timely reminders about the program, including information on where to view it live at OverdriveOnline.com and on Overdrive's YouTube channel.
Regular readers have caught a glimpse into some of the 2021 data from ATBS via this story about the records average owner-operator income's been breaking in recent times.. 
Along with record revenue, rates and income, however, have come fairly steadily increasing costs, just as independent owner-operator and small fleet readers feared early in the year. At that time, fuel prices were the principal concern, and the chart published with that story illustrates the swift rise that had then occurred.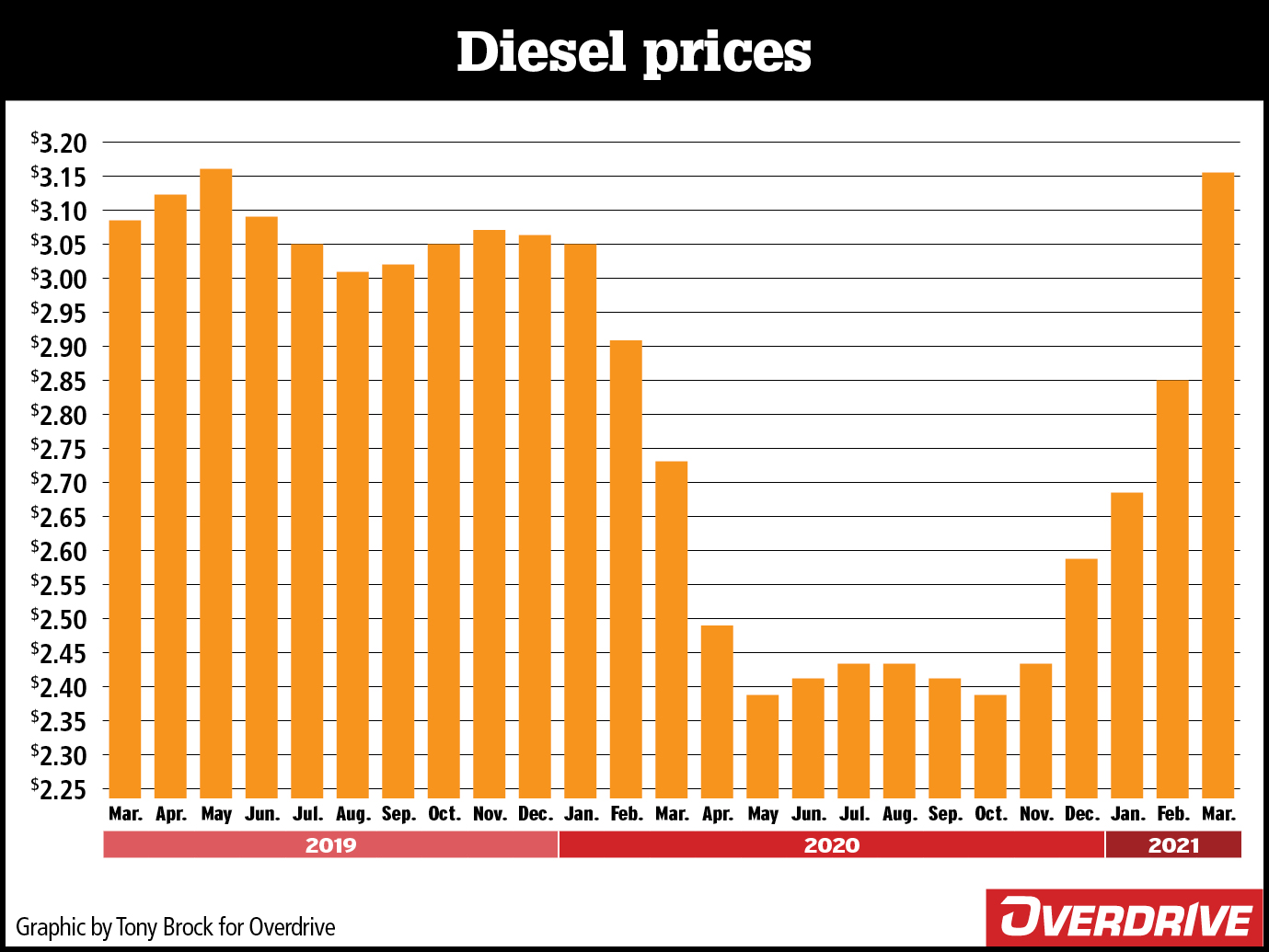 Since the time represented on this chart, increases have continued, with diesel hitting a seven-year high at the end of last month just over $3.40 per gallon.
As truck manufacturers have struggled with semiconductor availability amid increasing demand for new equipment, used-truck prices have also hit post-recession highs. And maintenance outlays among independents, rising over the long-term, have hit new highs as well in spring months this year.
Continued offsetting of increased costs with rising revenue has been the rule so far, as owner-operator income on average continues to hit records as well, as noted. 
There's other good news in per-diem deduction changes that have recently gone into effect, included a Q4 rise in the basic per-diem deduction allowed by the IRS. ATBS, too, has been instrumental in working out a way with the IRS to deduct a larger percentage of the per diem depending on the extent to which owner-operators eat restaurant meals on the road this year. 
How long can we expect the relatively good times to last amid rising costs? Bring your questions to the October 21 event, where you'll have an opportunity to ask them via the YouTube stream's chat or in comments here on Overdrive. If you have particular business- or tax-related questions in advance, go ahead and drop them in comments here and we'll do our best to get answers.   
---
Find more from the Partners in Business program, including the annually updated business manual for owner-operators new and experienced, via this link.