You can access Part 1 of this story via this link. With support growing for Truckers Against Trafficking from the community of drivers, owner-operator Matt Hopkins, inspired by a cyclist friend to tie his planned climb of Mt. Aconcagua in Argentina to a cause, decided to take TAT with him to the top…
The Truckers Against Trafficking rep who first received Hopkins' inquiries as he planned his climb of Mt. Aconcagua in Mendoza province, Argentina, was Administrator Laura Cyrus, who coincidentally also was a climber and had entertained a similar ambition. "I thought it'd be great to climb 14 'Fourteeners' " – mountains that rise above 14,000 feet – "for some organization," she says. "We bonded right away."
"I felt her enthusiasm," Hopkins says. "I knew I'd found my match for a team to hook up with."
The pair met at the tail end of one of Hopkins' bull hauls north of Denver, where TAT is based, in a Walmart parking lot. "We sat in a Starbucks for two and a half hours talking about it," Cyrus adds. "He was so passionate about doing it."
Also in advance of the Jan. 28 departure for Argentina, the "From Miles to Mountains" initiative, as the effort was dubbed, built a fund-raising website via the CrowdRise platform, ultimately channeling $1,360 to TAT.
That was far short of its $22,000 goal, but Hopkins says that as time went on, "I didn't really care how much money we raised as long as people could hear about" TAT. Hopkins delivered, garnering press coverage in advance of the climb not only in Overdrive but also high-profile spots on the Land Line Now radio show and in OOIDA's magazine of the same name.
APPETITE FOR THE EXTREME
Matt Hopkins wasn't always a bull hauler, mountaineer or ice climber. He grew up in part on a farm and has tried to live life with a side of adrenaline. As a kid, "BMX bikes turned into motocross, skateboarding turned into snowboarding."
Working with horses led him to the rodeo. "I started out with bareback horses and switched to bulls." After he snapped his femur riding one in 2008 at a Florida rodeo, "as I was recuperating, it got to the point where I couldn't bring myself to find the money to really compete and come out safe on a horse, or go the cheaper route and ride bulls and get hurt."
Now living in Montana, he says, "I thought maybe I'd try sport climbing and track climbing and the whole works. One thing led to another, and being in the mountains helped." He commonly competes in the annual Bozeman Ice Fest as an ice climber, among other events.
Trucking livestock-style came naturally out of a life spent around farm animals. Hopkins has his own authority, hauling as Hayhook Livestock out of Dillon, Mont. In the niche, he finds camaraderie with shippers and receivers "with big dreams and big minds" – many of them young men close to his own age, 27, who "push me to do more."
"I had another trucker in my town tell me he heard me on Land Line Now," Hopkins says. "I hope a lot of people actually heard and saw what I was doing it for."
Non-trucking media likewise picked up his story. Social media also was abuzz with individuals sharing Hopkins' plans. Facebook, says Cyrus, is often a "first-touch" point for drivers relative to TAT, leading to further connections down the line.
The event was thus a public relations success before he ever left the United States, touching down in Panama and then on to Santiago, where Hopkins and a friend and climbing partner skirted disaster.
Their climbing gear, worth $6,000 to $7,000, left town on a bus to Mendoza they were supposed to be on. They missed the departure by minutes as they tried to work out details for the trip into Argentina. Using what little Spanish the two of them knew, they "talked to this guy who runs the bus station, who then finds a way to call Mendoza and have them hold our bags." After a seven-hour bus ride, they caught up with their bags.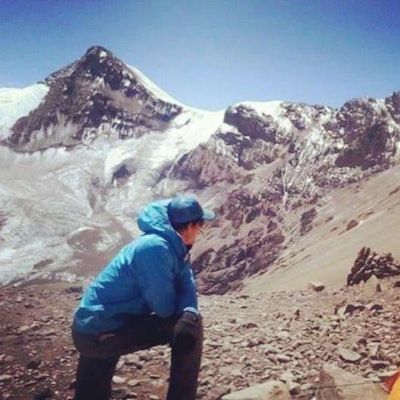 Hopkins and friend joined a Greek climber and another from India. Hopkins calls the climb up to Aconcagua "a long slog – like hiking through a desert '40 days and 40 nights,'" he says, "a lot of nights sitting in the tent, eating really bad food. … Totally draining."
Mountaineers who live at lower elevations commonly spend time at higher elevations before a high-altitude ascent in order to allow their bodies to adjust to the reduced oxygen levels. Hopkins' party didn't have that time to spare. With winter approaching in the mountainous areas of Mendoza, they were on something of a tight schedule to get to the top and back.
After 12 days of hiking, Hopkins and his party were within 2,800 vertical feet of the summit, at an altitude of 20,000 feet, when he ran into trouble.
"Think of it as 12 days to walk five miles," he says. "You're going up, and your body's not wanting to go up because you can't breathe. Living at 5,000 feet as I do now [in Montana], I didn't feel the altitude change until 17,000 feet – for a lot of people, at 14 to 16,000 it starts to hit home, and for those not really used to the climbing, 10,000 can shake them up really bad."
He was getting cold in odd places – his arms, his head. "And while my body was slowly getting used to it," it wasn't happening fast enough. "I thought I might get up there [to the summit], but I might be dead."
Hopkins and another climber turned back. His traveling companion from the States, however, went on to summit and rejoin the party later.
"I would have 'summit-ed' with better food and better sleep and maybe one more day of acclimatizing," Hopkins says.
People who live and work around Aconcagua "don't talk about how many people have died on the mountain. From what we can tell, it's claimed five to seven lives in the last few months," Hopkins said in March. "It takes you by surprise because it seems easier than it really is."
Hopkins hopes to continue mountaineering – likewise his advocacy efforts for TAT and/or other organizations. He's pondering a climb of North America's highest peak – Denali in Alaska. "I want to keep trucking and climbing for a cause," he says. Denali (also known as Mt. McKinley), at 20,322 feet, might be right within Hopkins' sweet spot, considering where he turned back on Aconcagua.
On the fund-raising/promotional side, "I hope to do this again and go bigger," he says. "I hope TAT flies. I told them 'Hustle me out, use me however you want to.' If it helps get people to pay attention, that's what I want." –Tara Bullock contributed to this report.