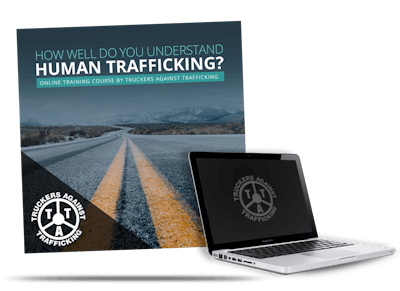 Truckers Against Trafficking is offering a new interactive online training course for members of the trucking community interested in learning more about how just they can be a part of the organization's work. TAT was founded and takes as its mission the enlistment of the trucking community's front-line members, drivers, among others, in the fight against human trafficking in America — centrally a problem of minors forced into prostitution on the highways and elsewhere.
There's more to it, however, as you will see in the course. Those interested can take it via this link, and a new version of their training video you can see below.  The TAT hotline number for reporting instances of suspected sex trafficking is 888-373-7888.
Overdrive has reported on the organization's efforts at various times through the years since its launch of its first training video in 2011, most recently when the organization was honored with a Congressional award for its effort, which partner truckers duly share in.
For an in-depth look at their mission, read Overdrive's April 2014 "Tied to a cause" cover story on the organization.
[vimeo 37154506 nolink]