The Truckers Against Trafficking organization got some official recognition of its participating drivers' efforts to combat sex trafficking throughout the nation.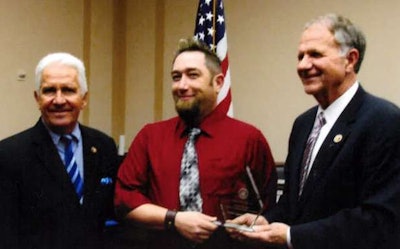 News picked up by the Wadena, Minn., Pioneer-Journal at this link featured Minn.-based driver Bill Brady accepting the Suzanne McDaniel Award for Public Awareness from the Congressional Victims Rights Caucus on behalf of the organization. TAT's now long been committed to building the bridge between law enforcement and truckers to help combat the problem of human trafficking, most concentrated in the U.S. in the sex-work arena.
This wouldn't be the first time the organization has been recognized, but to my knowledge it's the first Congressional-level recognition it's received. Well-deserved, I think you'll agree. If you've had any involvement with TAT, whether distributing their wallet cards, calling in tips to their national hotline (888-373-7888) or other efforts, you share in the recognition. Bill Brady's accepting the award is a clear indication of that.
As he told the Pioneer-Journal: "If I can touch one life, it's worth every mile I've driven."
Brady, the story notes, has driven TAT's mobile Freedom Drivers Project trailer, which I wrote about at this link.
Find further coverage of TAT's past and ongoing efforts via the links that follow:
**Traveling trailer exhibit highlights sex trafficking
**TAT, WIT start program to combat human trafficking
**Tied to a cause: Driver support grows for Truckers Against Trafficking
**Driver makes Truckers Against Trafficking message his own
**Latest TAT vid: 'I am not a lot lizard'