Trucking news and briefs for Tuesday, Dec. 14, 2021:
Senators urge Biden Admin., Canada to reconsider cross-border vax mandates for truckers
Fourteen U.S. Senators on Dec. 10 penned a letter to President Joe Biden asking the administration to work with Canada to exempt truck drivers from cross-border COVID-19 vaccine mandates that are set to take effect in both countries in January.
The compliance date for American drivers entering Canada is January 15, 2022. The expected compliance date for Canadian drivers entering the U.S. is January 22, 2022, though that has not yet been formally announced.
"In the coming weeks, both the U.S. and Canada intend to implement vaccination requirements on foreign truck drivers," the Senators wrote. "Despite the good intentions underpinning this action, we fear that the imposition of vaccination mandates as a requirement to cross the land border will exacerbate the existing challenges facing our freight networks and supply chain, and could further fuel inflation and rising prices on top of what Americans are already seeing. Our nation's truck drivers worked diligently during the pandemic to facilitate critical cross-border freight movements that helped to feed and clothe American communities. Now, implementing these policies could cost them their jobs."
The Senators noted that while both countries intend to enact the mandate on foreign truck drivers, "neither country has imposed such a requirement on solo truck drivers who operate domestically." Because of truck drivers' "essential" status as classified in March 2020 by the Department of Homeland Security's Cybersecurity and Infrastructure Security Agency, the Senators urged the Biden Administration to "reengage our northern neighbor and leading export partner to establish a reciprocal policy for cross-border truck drivers that does not include a vaccine mandate and will not disrupt the North American supply chain."
Senators who signed the letter include: Sen. Steve Daines (R-Montana); Kevin Cramer (R-North Dakota); James Risch (R-Idaho); Mike Crapo (R-Idaho); John Hoeven (R-North Dakota); Roger Marshall (R-Kansas); John Thune (R-South Dakota); Mike Braun (R-Indiana); Cynthia Lummis (R-Wyoming); Pat Toomey (R-Pennsylvania); Roger Wicker (R-Mississippi); Marsha Blackburn (R-Tennessee); Susan Collins (R-Maine); and Jerry Moran (R-Kansas).
[Related: Watchers say vax mandate at Canada-U.S. border to cause supply chain 'horrors']
Trucking convoy honors, raises funds for victims of Oxford school shooting
After the tragic school shooting that left four students dead and six others injured in Oxford Township in Michigan, local truckers stepped up to show support and raise funds and donations for the grieving community. More than 70 trucks of all types lined the road into Seymour Lake Park this weekend.
Andy O'Bryan, owner of gravel hauler CNV Enterprises in South Rockwood, Michigan, organized the event along Adam Fodor, an Oxford area truck driver, according to Detroit News. The paper reported hundreds showed up to observe the flashing lights and flags hung from utility vehicles.
"I wanted to reach out, and a buddy of mine lives in this area, so I called him," O'Bryan, who felt a personal connection to the town's loss after his own daughter died at 16 in a car crash, told the publication. "We put something together, and in three or four days it went from nothing to this.
"It's everything from tow trucks to service trucks to gravel trucks to pick up trucks."
The truckers joined forces with local businesses to donate prizes for raffles to raise money.
[Related: 'Joey's Ride' with trucking at Ohio elementary school]
Schneider set to test new in-vehicle alcohol detection system
Schneider is the first truckload carrier to conduct a trial deployment of new technology developed through the Driver Alcohol Detection System for Safety (DADSS) Program.
Since 2018, the Driven to Protect Initiative, a public-private partnership between the Virginia DMV and the DADSS Program, has been helping to test in-vehicle alcohol detection technology that will determine if a driver is impaired with a blood alcohol concentration (BAC) at or above the applicable legal limit in Virginia – and prevent the vehicle from moving.
In collaboration with the Virginia Department of Motor Vehicles and the Automotive Coalition for Traffic Safety (ACTS), Schneider will outfit eight of its cabs with the latest breath sensors in 2022, logging more than 100,000 sensor miles for each vehicle outfitted, for a collective total of almost one million miles.
This pilot will help refine the technology by increasing the stress that the system is put under on the road, exponentially increasing the number of miles driven and exposing the system to new drivers and a wider range of environmental conditions – all key to the DADSS Program's goal to commercialize fully passive vehicle-integrated breath technology.
"Safety comes first at Schneider, always, and we believe in going above and beyond industry standards. We look forward to the opportunity to pilot groundbreaking safety technology developed to help save lives," said Schneider Vice President of Safety, Driver Training and Compliance Tom DiSalvi. "We know our team of professional drivers will embrace this technology because, just as with previous safety enhancements, they will be part of a solution that will make our highways safer."
New Jersey trucker named Highway Angel for stopping after witnessing crash
The Truckload Carriers Association has named Melissa Bencivengo, from Lake Hopatcong, New Jersey, a Highway Angel for stopping at the scene of a three-vehicle accident after she witnessed a driver lose control.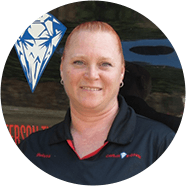 It was rush hour on Sept. 7 as Bencivengo drove along I-280 near Newark, New Jersey. She had just dropped off a trailer, and although traffic was heavy, she watched as a car in front of her sped up and began moving sporadically.
"It looked like she was trying to weave in and out of the traffic ahead of her," Bencivengo said. "She cut to the right and rear ended a Jeep, which spun her into the left lane. Then she bounced off another car, hit the Jeep again, careened out of control, crashed into a concrete barrier on the right side, did a 180, and ended up blocking both lanes."
Bencivengo carefully positioned her cab at a 45-degree angle to block both lanes of traffic behind her. She put on her four ways, grabbed her emergency kit, and ran to assist the driver of the first vehicle.
"The airbags had deployed, and the car was filled with smoke and dust," Bencivengo said. "There were two other bystanders who helped me get her out of the car. She said she had just come from the doctor's office and her blood pressure was high. She didn't know what had happened."
Another motorist stayed with her while Bencivengo checked on the other drivers. The driver of the Jeep and his son had minor injuries. The driver of the third vehicle wasn't hurt.
By now, traffic was backing up for miles. The road had concrete barriers on each side, and there was no way for emergency vehicles to get to the scene. "We had to open up the lane," she said.
The car was inoperable and, unfortunately, her tow strap was broken. "Someone suggested bouncing the car to move it," she added.
Bencivengo recruited three other truck drivers and three bystanders to assist in bouncing the vehicle on its own suspension and eventually, they were able to move it completely out of the way. Bencivengo then repositioned her truck, leaving enough room in front of her for emergency vehicles and a tow truck to pull in. Then she began directing traffic until police officers arrived. She narrowly avoided being struck by one vehicle. The tow truck driver and EMTs who arrived on the scene thanked Bencivengo for making the scene safe for them to get in and do their jobs.
Bencivengo trained to be a Junior Firefighter when she was just 15 years old and learned how to secure a scene and assess it. She is also a certified nurse's aide which helped her in assessing the condition of those involved in the accident.
For her willingness to assist, TCA presented Bencivengo with a certificate, patch, lapel pin, and truck decals. Her employer, Carbon Express, also received a letter acknowledging their driver as a Highway Angel.