Trucking news and briefs for Monday, Jan. 10, 2022:
Canadian cross-border vaccine mandate takes effect Saturday
Beginning Saturday, Jan. 15, truck drivers crossing the northern U.S. border into Canada will have to provide proof they have received the COVID-19 vaccine.
To enter Canada, drivers must be fully vaccinated and must have received their last dose at least 14 days before entering. The Canadian government has set up the ArriveCAN website and app in which travelers into the country are required to enter their contact information, vaccination information and more at least 72 hours before entering the country.
To meet the requirements of being "fully vaccinated" to enter Canada, travelers must have received either two doses of the Pfizer, Moderna, AstraZeneca, Covaxin, Sinopharm and Sinovac vaccines; or one dose of the Janssen/Johnson & Johnson vaccine.
Non-Canadian citizens who try to enter the country unvaccinated will be turned around, while unvaccinated Canadian citizens will be quarantined for 14 days before being allowed to reenter the country.
The Canadian Trucking Alliance and the Private Motor Truck Council of Canada have been lobbying against the mandate for truck drivers, claiming the mandate will have a severe negative impact on an already strained supply chain.
"While there's reportedly a modest uptick of drivers getting vaccinated at some companies, there are substantial reports of higher-than-normal turnover and others declaring their intention to leave the industry or seek employment in the provincially regulated sector over the impending mandate at the border and the recently announced domestic mandate impacting the federally regulated trucking sector," said CTA president Stephen Laskowski.
CTA estimates that the Canadian trucking industry is expecting a loss of 12,000-16,000 (10%-15%) cross-border truck drivers due to the mandate.
"The PMTC and many other industry associations and representatives have been speaking out against this policy loudly, and are extremely concerned about the further damage this will cause to our supply chain," PMTC said in a press release Monday. "Despite these concerns being raised by all, on the weekend the federal government confirmed their intention to move forward with this effective this Saturday."
The United States is expected to institute a similar mandate on Jan. 22.
[Related: Employer vaccine mandate at the Supreme Court]
Two Minnesota rest areas reopening
The eastbound and westbound Interstate 90 Clear Lake and Des Moines Rest Areas near Jackson, Minnesota, have reopened, according to the Minnesota Department of Transportation.
The rest areas have been under reconstruction since June 2020 with limited facilities to travelers, including parking and portable bathrooms. The original building sites were constructed back in 1974 and 1975. The improvements at the rest areas include additional truck parking; new buildings; new site amenities, including walking trails, fenced pet areas and more; improved pedestrian and parking lot lighting; and smoother pavement.
Paving of the westbound Des Moines rest area located west of Jackson is scheduled for later this year.
Carrier-Transicold bundling telematics for refrigerated customers to upgrade 3G services
With wireless carriers across North America moving to phase out 3G service, refrigerated solutions provider Carrier Transicold has introduced a program to help customers upgrade telematics technology on their refrigerated trucks and trailers. New "eSolutions" bundled subscriptions eliminate large upfront hardware costs by packaging equipment fees and airtime service into a monthly plan.
"Regardless of the 3G telematics equipment currently being used on a fleet's Carrier Transicold refrigeration units, fleet managers now have the advantage of upgrading to our eSolutions 4G LTE equipment without a major capital investment up front," said David Brondum, Carrier Transicold director of telematics. A bundled subscription offers full warranty support over the life of the contract, and "provides protection against obsolescence as cellular networks sunset earlier technologies in favor of newer generation telecommunications."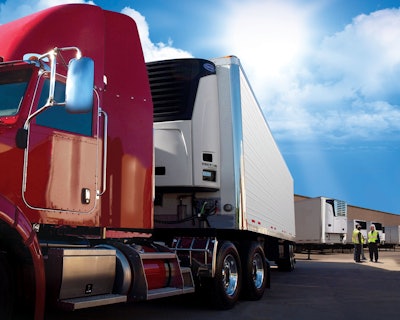 Program features:
A competitive, predictable monthly fee that covers hardware, software and airtime service, allowing fleets to convert a capital outlay to an operating expense.
3- and 5-year contract options.
Guaranteed equipment performance, including parts and labor warranty coverage, for the life of the contract.
Installation and equipment commissioning by authorized Carrier Transicold dealers, which assures proper operation and warranty.
Hardware includes a transceiver module, antenna and wiring harness as well as optional peripheral components such as fuel sensors, temperature probes and door switches, as required by specific customer needs. Three airtime service plans are available: 1) Monitor, 2) Two-way Monitor and Control and 3) Monitor and Enhanced Control, adding capabilities for data downloads, remote software updates and adjustments to Carrier Transicold IntelliSet control configurations.
Trucker named Highway Angel for helping man injured while working on truck
The Truckload Carriers Association has named Mark Outen, from West Jefferson, North Carolina, a Highway Angel for rushing to the aid of a man who was injured while working on a truck axle.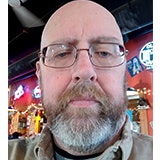 Outen was pulling into a rest area near Grain Valley, Missouri, one day in late August when he noticed someone from a truck service company working on the rear axle of a trailer.
"I pulled up and parked out of the way to give him plenty of room," Outen said. A moment later he heard a loud bang. "It was like a shotgun going off. I looked around and saw a guy on the ground holding his stomach."
It turns out that the service technician was working on a faulty pressure valve and a part of the axle blew off, striking him in the stomach.
Outen rushed over to the man to help.
"He had what looked like a two-ring mark or impression where the piece hit him, and his stomach was already turning blue from the force of the object," Outen said. "It was shocking. I thought maybe his intestines were damaged and he had internal bleeding."
Outen used to work as a diesel mechanic and said he had never seen an axle fall apart like that. The driver of the trailer also rushed over and helped Outen lay the injured man down on the ground.
"While he called 911 I called my wife, who is a nurse, to see what we should do to keep him comfortable," Outen said. "She told me to move him out of the sun and put something under his head and to not give him any water at that point."
First responders arrived about 15 minutes later, and Outen helped get the man on the gurney. The man's wife reached out to Outen via Facebook to thank him.
"They kept him overnight for observation and then he was able to go home," Outen added. He's relieved the man wasn't seriously injured. "I didn't do anything heroic that day. Sometimes you just need to step up and help your fellow human being."
For his willingness to help, TCA has presented Outen with a certificate, patch, lapel pin and truck decals. His employer, Hirschbach Motor Lines, has also received a letter acknowledging its driver as a Highway Angel.