Trucking news and briefs for Friday, Feb. 4, 2022:
Senators introduce bill to address challenges at ports
Members of the U.S. Senate introduced a bill similar to legislation passed in the House in December that seeks to ease supply chain challenges at ports, including addressing detention practices. The House version of the Ocean Shipping Reform Act was passed overwhelmingly by a 364-60 vote.
The Senate's version of the legislation, introduced by Sens. John Thune (R-South Dakota) and Amy Klobuchar (D-Minnesota), like the House bill aims to clear up backlogs of agricultural exports sitting at ports while empty containers are shipped back to Asia.
According to a press release from Klobuchar, the legislation would make it harder "for ocean carriers to arbitrarily turn away goods at ports that are ready to be shipped abroad. It would also give the Federal Maritime Commission (FMC), the federal agency responsible for the regulation of oceanborne transportation, greater authority to regulate harmful practices by ocean carriers.
The bill also includes language requiring the FMC to create a new rulemaking to define prohibited practices by common ocean carriers, marine terminal operators, shippers and ocean transportation intermediaries regarding the assessment of demurrage or detention charges.
Specifically, the trucking industry seeks relief from excessive detention and demurrage charges, complaints lodged in prior Overdrive reporting on the intermodal niche last year – many see them as unfair fees levied on motor carriers by ocean carriers and marine terminal operators when shipping containers are not moved on schedule, though delays are typically due to factors entirely outside truckers' control and often the result of inefficiencies caused by the ocean carriers themselves.
The American Trucking Associations supported the House version of the bill for addressing those practices.
"Ensuring fair practices at our ports is critical to ensuring goods get from docks to warehouses and store shelves," said Jon Eisen, director of ATA's Intermodal Motor Carriers Conference, of the House's passage of its bill in December. "House passage of the Ocean Shipping Reform Act is a major step toward modernizing regulations to reflect the commercial realities of ocean freight and their impact on our domestic transportation networks. ATA welcomes the improvements in this bill and a vigorous debate over these issues."
[Related: Intermodal haulers fight off a 'system collapse' at ports as Biden pushes for more productivity]
Massive winter storm prompts FMCSA suspension of certain HOS regs for heating fuel haulers across 41 states
The Federal Motor Carrier Safety Administration has issued a Regional Emergency Declaration and is continuing the exemption from certain hours of service regulations due to winter storms impacting much of the U.S.
FMCSA says the emergency is in response to winter storms and high demand resulting in decreased availability of heating fuel, including propane, natural gas and heating oil. The declaration covers 41 states and Washington, D.C.
Affected states are: Alabama, Arizona, Arkansas, Connecticut, Delaware, Georgia, Idaho, Illinois, Indiana, Iowa, Kansas, Kentucky, Louisiana, Maine, Maryland, Massachusetts, Michigan, Minnesota, Mississippi, Missouri, Montana, Nebraska, New Hampshire, New Jersey, New Mexico, New York, North Carolina, North Dakota, Ohio, Pennsylvania, Rhode Island, South Carolina, South Dakota, Tennessee, Texas, Utah, Vermont, Virginia, West Virginia, Wisconsin and Wyoming.
Under terms of the declaration, motor carriers and truck drivers providing direct assistance supporting emergency relief efforts transporting heating fuel are temporarily exempt from 49 CFR Part 395.3, which is the maximum driving time regulation in the Federal Motor Carrier Safety Regulations.
Direct assistance ends when a driver or commercial vehicle is used in interstate commerce to transport cargo or provide services that are not in support of emergency relief efforts related to the emergency in the affected states.
The waiver is effective immediately and will remain in effect until the end of the emergency or through March 8, whichever is earlier.
Impacts on roads with this week's weather have been widespread, of course. The Convoy brokerage/freight platform's staff meteorologist Francisco Alvarez noted large amounts of ice in areas unused to dealing with it, from key markets from Dallas/Forth Worth to Memphis and Louisville, Kentucky, as well as thick snow accumulation farther north.
"This storm is producing thick ice on an almost unprecedented geographic area, extending north all the way from Texas into Pennsylvania, West Virginia, and other areas of the East Coast" today and into the weekend, Alvarez said. Given well-below-freezing temps following behind the storms, whether dumping snow or ice, "I would expect conditions to remain icy and dangerous for a couple of days, likely through most of the weekend," he added.
At this link, tap into resources for weather and road conditions across the nation via Overdrive's "Roads 511" aggregation of state DOTs 511-info services' Twitter accounts.
New TA Truck Service Center in Wyoming
TravelCenters of America has opened a new TA Truck Service Center at the Hat Six Travel Plaza in Evansville, Wyoming, located at exit 182 of I-25.
The truck service repair facility offers three service bays and is open 24 hours, with TA Truck Service Emergency Roadside Assistance available for drivers in need of assistance while in transit.
The TA Truck Service has a team of expert technicians dedicated to providing preventive maintenance, engine diagnostics, alignments, tire services, standard repair services, oil changes and NorthStar Batteries. All TA Truck Service centers provide a vast selection of parts inventory, oil brands, and a full line of tires from Bridgestone, Michelin and Goodyear.
Pilot expands American Heart Month Campaign
Pilot Company is kicking off its annual American Heart Month Campaign with new ways for drivers to give in support of heart health this February at more than 670 participating travel centers across North America.
This is the sixth year Pilot has teamed up with the American Heart Association for its Life is Why marketing campaign – inspiring guests to celebrate their reasons to live healthier, longer lives by donating online or at participating Pilot Flying J or One9 Fuel Network travel centers from February 1-28.
New initiatives include donations through the purchase of Pilot Flying J eGift cards, and in-store donations will be accepted at Flying J locations in Canada from February 22-28 to benefit the Heart and Stroke Foundation of Canada.
"Over the past five years, we've been able to raise more than $5 million to help support the life-saving work of the American Heart Association," said Brian Ferguson, Chief Merchant of Pilot Company." To promote healthier lifestyles on the road, drivers can also find exclusive deals during February in the Pilot myRewards Plus app to save on healthier food and beverage options at Pilot Flying J Travel Centers.
ABF Freight driver named Highway Angel
Roy Davison, an Indiana-based truck driver for ABF Freight, has been named a Highway Angel by the Truckload Carriers Association for stopping to help a couple after they lost control of the U-Haul truck and trailer they were driving and flipped.
On October 9, late that evening, Davison was eastbound on 1-94 near Altoona, Wisconsin, on his way to Chicago. He had just crested a hill when he saw a U-Haul truck up ahead pulling a trailer loaded with a minivan lose control and flip. The trailer separated from the truck and rolled over in the ditch, crushing the roof of the minivan.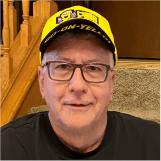 Davison slowed and maneuvered his truck and trailer to block the two-lane road. He then jumped out and ran to the overturned U-Haul which was lying on its passenger side.
"I saw two faces looking through the windshield at me," Davison said. "I knew it wouldn't be safe to break the windshield to get them out, so I climbed up onto the undercarriage of the U-Haul."
Another driver who had stopped held the driver's door open. Davison carefully made his way inside the truck. The driver and passenger, a couple in their 60s, were still strapped into their seats.
"I helped the driver step on the armrest and then boosted her up and the other driver pulled her up," Davison added. He then worked on helping the passenger, who was buried underneath some of the couple's possessions that had come loose when the U-Haul flipped over.
Once they were safely out of the vehicle, Davison asked the driver what had happened.
"She said, 'It just got all squirrely and thank you, Jesus!'" he said. "They were lucky to be able to walk away from it. They took quite a ride coming over that hill. I almost didn't see them when I came over the hill as there was some fog."
Davison recalled that all of the couple's belongings were in the U-Haul truck and in the minivan. "There was broken glass everywhere and their stuff was scattered all around," he said. "I felt really bad for them. I found their cell phones and keys, and they had their family Bible with them which they took in the ambulance with them."
TCA has presented Davison with a certificate, patch, lapel pin, and truck decals. His employer has also received a letter acknowledging him as a Highway Angel.