Trucking news and briefs for Wednesday, Feb. 2, 2022:
2021 highway fatality estimates continue to grow
The U.S. Department of Transportation's National Highway Traffic Safety Administration released its early estimate of traffic fatalities for the first nine months of 2021, which projects that an estimated 31,720 people died in motor vehicle traffic crashes from January through September 2021.
These numbers, if proven accurate, represent an increase of approximately 12% from the 28,325 fatalities projected for the first nine months of 2020. The projection is the highest number of fatalities during the first nine months of any year since 2006 and the highest-ever percentage increase during any first nine months in the Fatality Analysis Reporting System's history.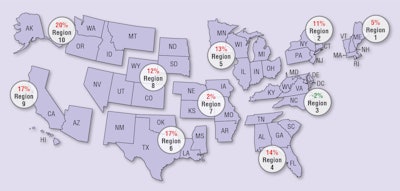 While the number of fatalities is projected to have greatly increased in 2021 over 2020, the fatality rate per 100 million vehicle miles traveled only slightly increased.
According to the Federal Highway Administration, vehicle miles traveled in the first nine months of 2021 increased by about 244 billion miles, an 11.7% increase from the same time in 2020, given reduced travel on account of the COVID-19 pandemic's beginning in 2020.
The fatality rate for the first nine months of 2021 increased to 1.36 fatalities per 100 million vehicle miles traveled, a marginal increase from the projected rate of 1.35 fatalities in the same time in 2020. The fatality rates in the second and third quarters of 2021 declined compared to 2020.
The new estimates come days after the U.S. Department of Transportation released the federal government's first-ever National Roadway Safety Strategy, a roadmap to address the national crisis in roadway fatalities and serious injuries.
"This is a national crisis. We cannot and must not accept these deaths as an inevitable part of everyday life," said Transportation Secretary Pete Buttigieg. "The good news is we now have a strategy, as well as the resources and programs to deliver it, thanks to the President's Bipartisan Infrastructure Law."
The early estimate report also provides the first look at state-level traffic fatality estimates during the pandemic. Compared to 2020, NHTSA projects that during the first nine months of 2021, fatalities increased in 38 states, remained flat in two states, and decreased in 10 states and the District of Columbia.
[Related: Preventing dramatic wheel-off accidents like this one could get a good deal easier with a new tech]
FMCSA updates guidance regarding third-party CDL testers
In regulatory guidance that takes effect Thursday, Feb. 3, the Federal Motor Carrier Safety Administration explains that the agency's current statutory authorities and regulations do not prohibit third-party testers from administering the CDL knowledge tests for all classes and endorsements.
The agency says state driver's license agencies (SDLAs) can accept the results of knowledge tests administered by third-party testers.
The updated guidance was prompted by an April 2020 request from the Virginia Department of Motor Vehicles to allow non-government third-party testers to administer knowledge tests due to the closure of DMV locations at the time because of COVID-19.
In response to the Virginia DMV's request, FMCSA indicated that applicable statutes and regulations do not currently prohibit states from allowing a third party to administer CDL and CLP knowledge tests.
Previous guidance first issued in 1993 and reissued in 2019 said that third-party testers could only administer knowledge tests if an authorized state employee was present. FMCSA said it has reconsidered the guidance and concluded that nothing in its current authorities prohibits states from allowing third-party testers to administer CDL knowledge tests.
FMCSA noted that the updated guidance is intended only to provide clarity to the public regarding existing requirements under the law.
[Related: 'Entry Level' driver training: While FMCSA's new regs loom, old training ways set to survive]
Pilot now selling certain GNC products
Pilot Flying J has partnered with health and wellness brand GNC to offer five on-the-go GNC products at 645 participating Pilot Flying J locations across the country.
GNC products now available at participating travel centers include GNC Mega Men Gummy Multivitamin, GNC Men's Staminol Daily Male Performance Formula, GNC Melatonin 5 mg, GNC Immune Defense Gummy, and GNC Women's Multivitamin Energy & Metabolism.
Pilot Flying J is offering drivers an exclusive discount from now until Feb. 27 for 25% off GNC products through its myRewards Plus app. To redeem the deal, drivers can save the limited time offer in the myRewards Plus app and scan the app or myRewards card at the time of purchase at participating Pilot Flying J Travel Centers.