Positive drug tests reported to the Federal Motor Carrier Safety Administration's CDL Drug and Alcohol Clearinghouse are on the rise so far this year, according to the agency's February 2022 Clearinghouse report released April 12.
According to FMCSA's most recent monthly report, showing data through February, there were 10,035 drug-related violations reported to the Clearinghouse in the first two months of the year. If that pace keeps up through the rest of the year, such violation numbers in total will outpace the 2021 total of 57,763 drug-related violations.
Bryan Price, FMCSA division chief for drug and alcohol programs, said during a session at the Mid-America Trucking Show in March that while violations are up, FMCSA does not have data on the total number of drug tests actually conducted, so it's unclear if the rate of positives has really gone up or not. See Price's full presentation in this video from MATS, or see the video at the end of this post.
The majority of drug violations reported to the Clearinghouse this year have been failed drug tests, accounting for 8,487 of all reported drug violations. Other violations reported were either drug test refusals or actual knowledge of a drug violation reported by an employer.
Price said he's surprised by the number of drug test refusals reported to the Clearinghouse. Since the Clearinghouse launched on Jan. 6, 2020, there have been 16,563 drug test refusals reported to the database.
[Related: Low-hanging fruit to help avoid FMCSA Clearinghouse violations]
Price noted that many of the refusals may stem from random drug tests called for by a carrier, when a driver knows he or she likely has an illegal substance in their system and never shows up for the test. It's then reported to the Clearinghouse as a refusal.
"The consequences of these refusals are the exact same as if you tested positive," Price said. He added that he's seen some petitions for repeals where a current employer calls a driver for a random, but the driver already has a start date set for another company and blows off the drug test. The company that asked the driver to take the random will then report that as a refusal to the Clearinghouse, putting the driver in prohibited status.
Of the 10,035 drug violations reported through February, 5,978 were from pre-employment screenings, and 2,774 were from random tests.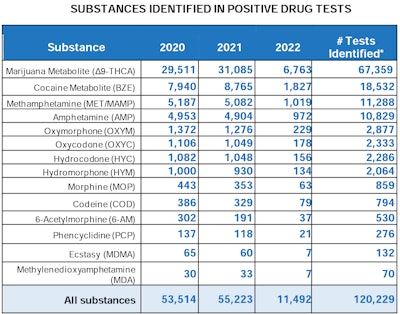 Marijuana remains the most-reported substance identified in positive drug tests, accounting for 6,763 of the 11,492 substances found in positive tests through February. Cocaine and methamphetamine followed, being found in 1,827 and 1,019 drug tests, respectively.
Since the Clearinghouse launched, there have been 120,229 substances identified in positive drug tests, with marijuana accounting for 67.359 of those.
Through March 1, 2022, there have been 113,667 drivers reported to the Clearinghouse with at least one violation since the system launched in 2020. Of those, only 27,498 have successfully completed return-to-duty processes, leaving 86,169 drivers in prohibited status. Most of those operators (64,786) have not started the return-to-duty process.
For now, those drivers only appear in the Clearinghouse under prohibited status. By November 2024, when a driver is put into prohibited status in the Clearinghouse, that information will be sent to state driver's licensing agencies, and the driver will lose CDL privileges entirely until they complete return-to-duty programs.